Dropper Post Size Calculator
Use our calculator to find your ideal dropper post-travel. It's essential to find the correct dropper post travel because too much travel can put the seat height too high, even for when climbing. The calculator should help provide the maximum travel length of dropper post you can use comfortably.
(Under the calculator, we have put together a full dropper post-buying guide. To help you make sure to select the correct dropper post)
Your ideal dropper post height is:
The extension of the dropper post base from the seat post collar will be:
The dropper post extension from the seat collar is 18mm or more.
A longer dropper post could potentially fit using a stack height under 55mm or with a lower profile saddle.
The dropper post extension from the seat collar is 5mm or less.
To ensure a correct fit do not use a dropper post with a stack height over 55mm.
How to Use The Dropper Post Travel Calculator
1. Work out your preferred maximum saddle height. (If you are not sure, try our saddle height calculator for a starting point).
2. Measured from the top of the seat post clamp to the middle of the saddle clamp on the rails. Take this number and add it to our dropper post-travel calculator. The result should be your ideal dripper post-travel.
Note: This should only be used as a guide – as there are many different variables to consider.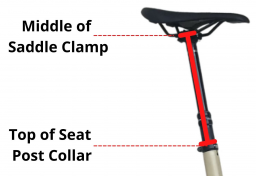 How to Select a Compatability Dropper Post?
How do you know what size dropper post to get? There are 3 main things to consider when looking at dropper posts 1. Seat Tube Diameter, 2. Maximum Insertion Length, 3. Dropper Post Travel.
1. Seat Tube Diameter
Dropper posts come in several different diameters. You must select the diameter that corresponds to your frame's seat tube. Your seat tube diameter will either be printed on the seat post, or you check with some vernier callipers ( also, you should be able to find it online with your bike's spec)
The most common seat post diameters are:
34.9mm
31.6mm (most common)
30.9mm (most common)
27.2mm (often road & older bikes)
2. Maximum Insertion Length
The amount the dropper post goes into a seat tube is the insertion length. Many frames have a bend in the seat tube which limits the maximum insertion length. Also, frames have a minimum insertion length to avoid damage to the frame.
Simply, it's important to check your maximum insertion length to ensure the post will fit both you and your bike at the same time.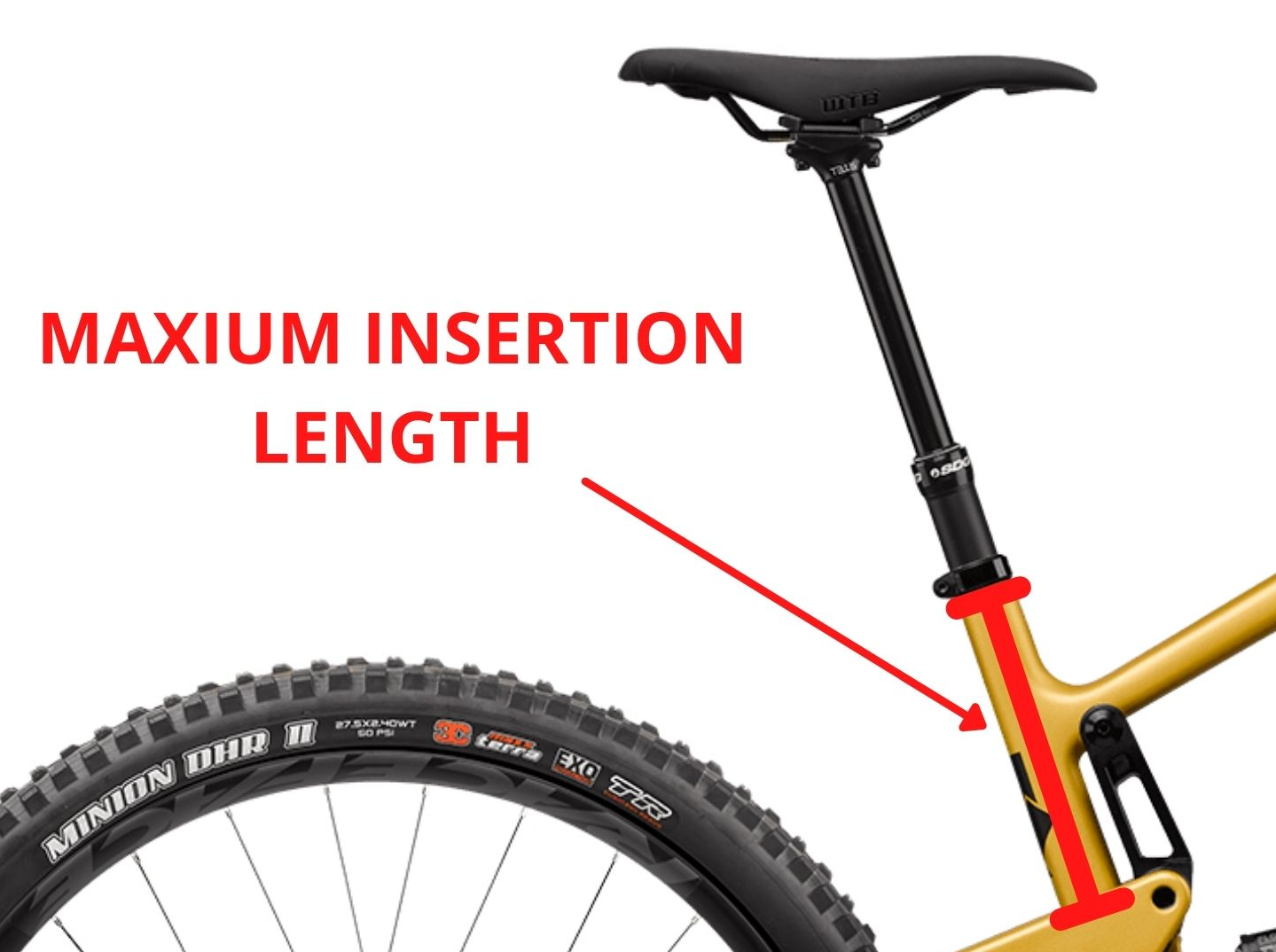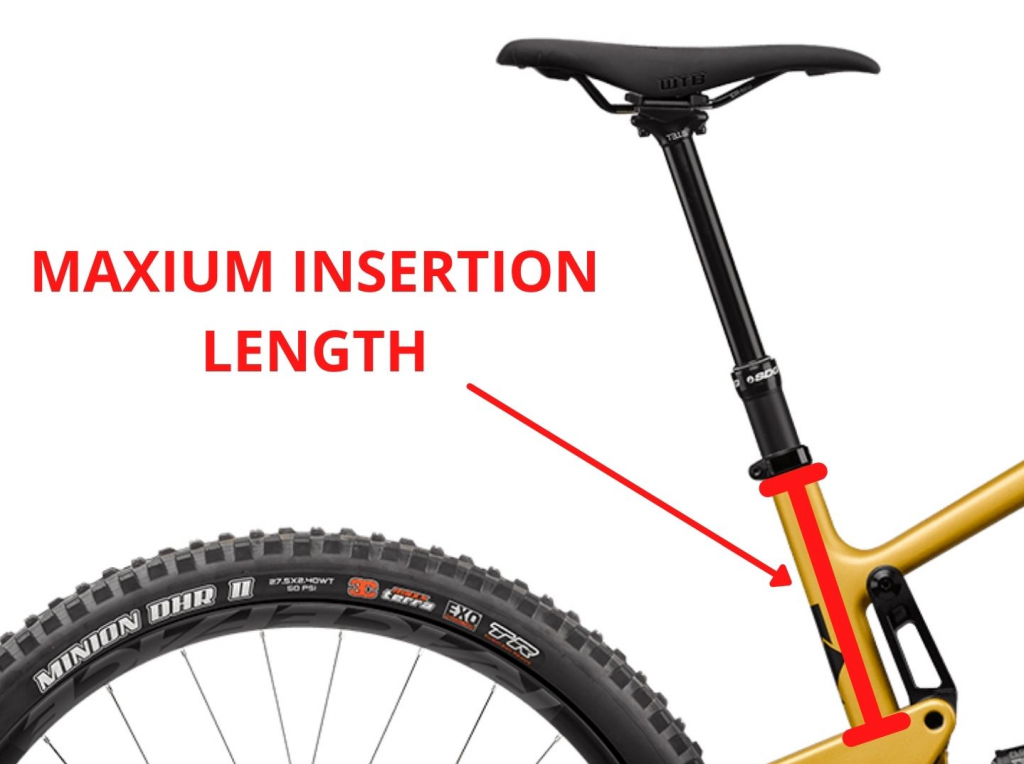 3. Dropper Post Travel
The travel of a dropper seat post is the amount the seat post can be fully extended. It's important to find the correct travel as if it's too short it will be too high for descending, and if it's too long it will be too high for climbing. Use our dropper post travel calculator at the top of this page to find your perfect amount of travel.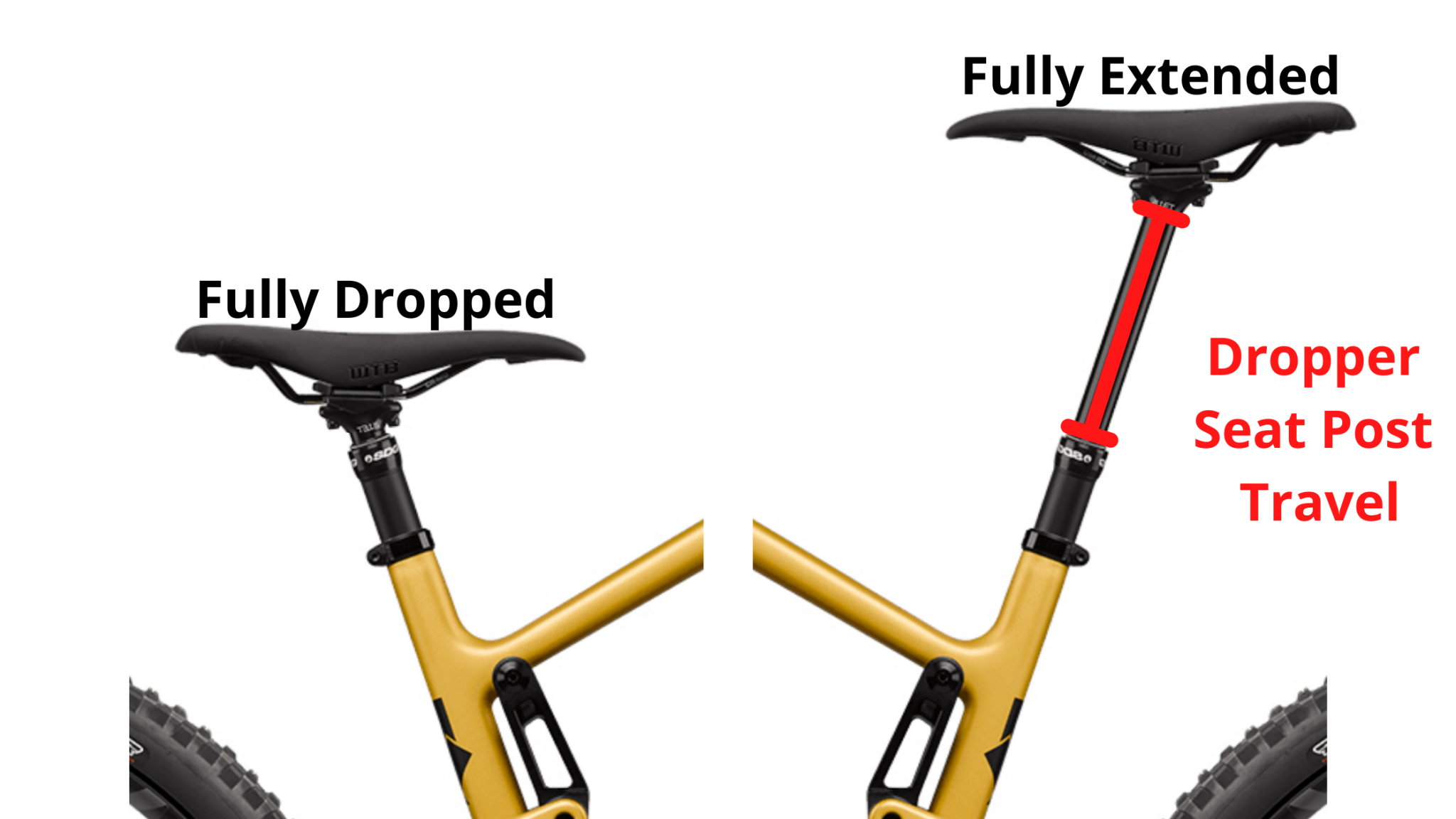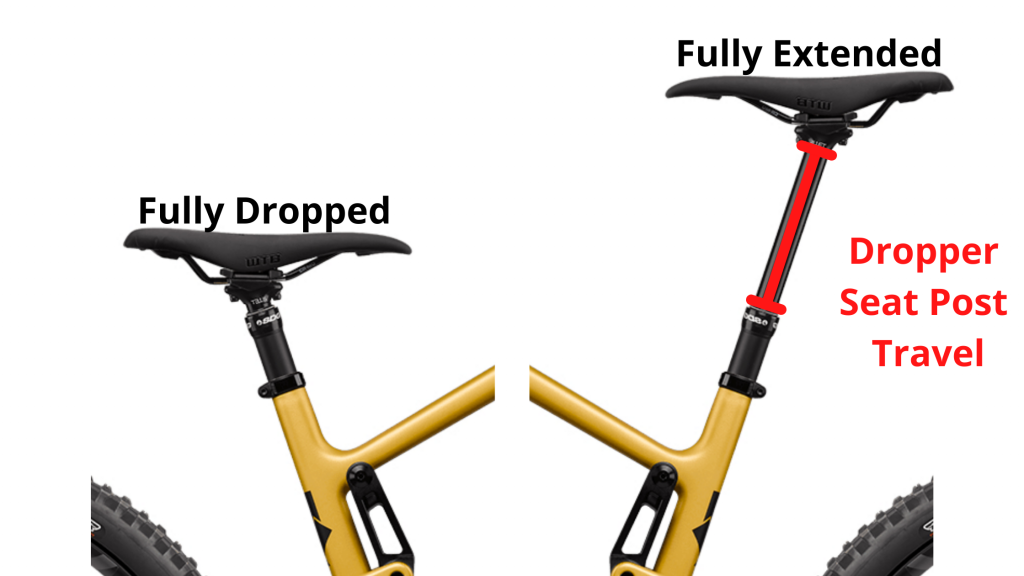 Dropper Posts Questions and Answers
What Does a Dropper Post Do on A Mtb?
Simply a dropper post allows you to adjust your saddle height from a lever usually located on your handlebars.
Is a Dropper Post Worth It?
yes. Most people who try a dropper once cant ride without them. Most forms of cycling involve riding up and down hills, which means you're in constant need of changing your saddle height. A dropper post allows saddle height adjustment without taking your hands off the handlebars, making climbing more efficient and descending much more comfortable.

Can You Put a Dropper Post on Any Bike?
You cannot fit a dropper to any bike. This is because some bikes have sea tubes that are too small to accommodate a dropper post. However, on many bikes, you can unofficially fit a dropper post too, although sometimes it might involve drilling the frame to allow the cable through.

Is It Easy to Install A Dropper Post?
It depends on the dropper post and the type of frame. If you are fitting a cable dropper post to a frame that has internal routing guides then it can be quite simple. If you are fitting a hydraulic dropper to a frame without internal guides it can be a challenge feeding the hose through the frame and then ensuring you get the bleed process correct.

How Does a Dropper Work?
Most dropper posts are essentially an air spring connected to a switch that allows the post to go up or down. Dropper posts are operated by a lever located on the handlebars (or under the saddle). This lever either functions hydraulically or mechanically (wire cable) that actuates a switch on the post allowing it to move.
Hydraulic or Mechanical
Simply hydraulic dropper posts feel great but are quite expensive. Mechanical dropper posts are cheaper to buy and are simpler to maintain.

How Do You Ride a Dropper Post?
To ride a dropper is simple, If the saddle is down you press the lever for the post to go up (for climbing), and press the lever while sitting on the saddle for the saddle to go down for descending.

Can You Put a Dropper Post on A Hardtail?
Yes, you can put a dropper post on a hardtail. There are many hardtails sold from new with droppers as standard.

How Much Is a Dropper Seat Post?
Dropper seat posts start from around $80 and go all the way up to $900. The average price of a dropper post is around $400.

How Much Does It Cost to Install a Dropper Post?
Prices will vary depending on where the bike shop is. See the prices below to give an idea of prices.
| | |
| --- | --- |
| Dropper post-install (non-stealth/external) | $15 (£12) |
| Stealth dropper post-install | $20 (£15) |
| Reverb remote/hose bleed | $20 (£15) |
| Dropper post overhaul | $80 ($60) |

How Do You Install a Dropper Post on An Older Bike?
The issue with older bikes is they do not have the cable routing for dropper posts. So you have two options to install a dropper seat post on an older bike.
1. Buy an older dropper post that has the cable attached to the top of the post near the saddle rails – so the cable is not run through the frame. The issue with this option is that the cable can catch on things and looks a bit ugly
2. Drill a hole in your frame. Many people drill a small hole in their seat tube to allow the dropper cable to connect under the dropper post. If you're unsure, or not confident always as a professional before drilling holes in your frame.

Do Dropper Posts Have Suspension?
Dropper posts do not normally have suspension. However, there is a company that makes suspension dropper posts (PNW COAST SUSPENSION POST)

When Did Droppers Become Popular?
The first-ever variant of a dropper post appeared in 1984 and was invented by the modern mountain bike pioneer' Joe Breeze'. The post was called 'Hite Rite' and had 4.5 " of travel.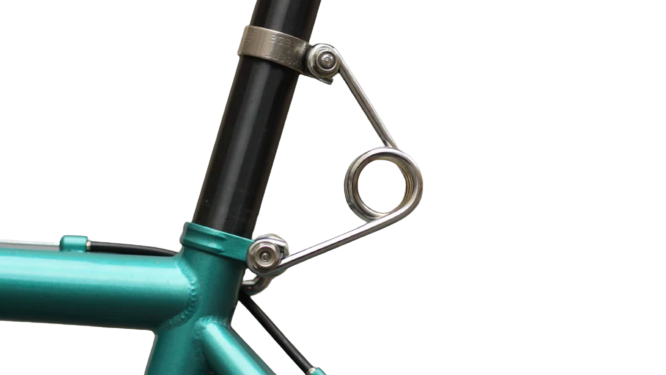 The modern dropper posts didn't become popular until 2010 with the release of the Rock Shox Reverb. This also coincided with when the modern sport of mountain bike enduro racing became popular and now the dropper post has become a crucial part of any enduro bike.
Can You Use a Dropper Post at Any Height?
Yes. Most dropper posts can be used at any height, which can be useful for certain trail riding situations. However, it's recommended to set the maximum height to your preferred climbing height. You can use our calculator to find your max saddle height.

Should You Leave Dropper Post up Or Down?
Most dropper posts are advised to leave them up (in the fully extended position). Dropper seat posts usually have less pressure on the seals while they're in the 'up' position – this is because most posts are pushed up with a spring (normally an air spring).
Final Thoughts (Dropper Post Size Calculator)
Dropper posts make riding up and downhill much more enjoyable, but there are many different sizes to choose from. We hope this post has given you some clarity into which dripper post will be the best fit for you.