Kids Ride Shotgun Pro Seat Review
Kids Ride Shotgun Pro Seat Review
We're parents that live and breathe mountain biking. In our review of the Kids Ride Shotgun Pro Seat, we've taken our little shredder on lots of adventures around where we live in the French Alps. We've tested the seat on the ups and downs, through the bike park, and on chilled forest trails in and around Morzine.
In this review, we hope to give an honest insight into our experience of using the Pro Seat and help answer many of the common questions.
Kids Ride Shotgun Pro Seat Overview
PRICE: $250usd (€220,00 EUR, £180.00 GBP) includes free shipping
AGES: Designed for ages 2 – 5 years
MAX WEIGHT: 60 LB (27 KG)
PROS:
CONS:
• Compatible with almost any bike
• Does not contact frame (ideal for carbon frames)
• Simple and fast to install
• Easy to adjust foot peg height
• 2 headset spacers (allowing use with other bikes)
• Simple to adjust saddle angle for comfort
• Adjustable foot strap for different size feet
• Solid construction
• A perfect way for kids to experience mountain biking

• May not be compatible if you have low bars or a short stem
• Might be hard to ride with older/taller kids
• Slightly heavier than other kid's seats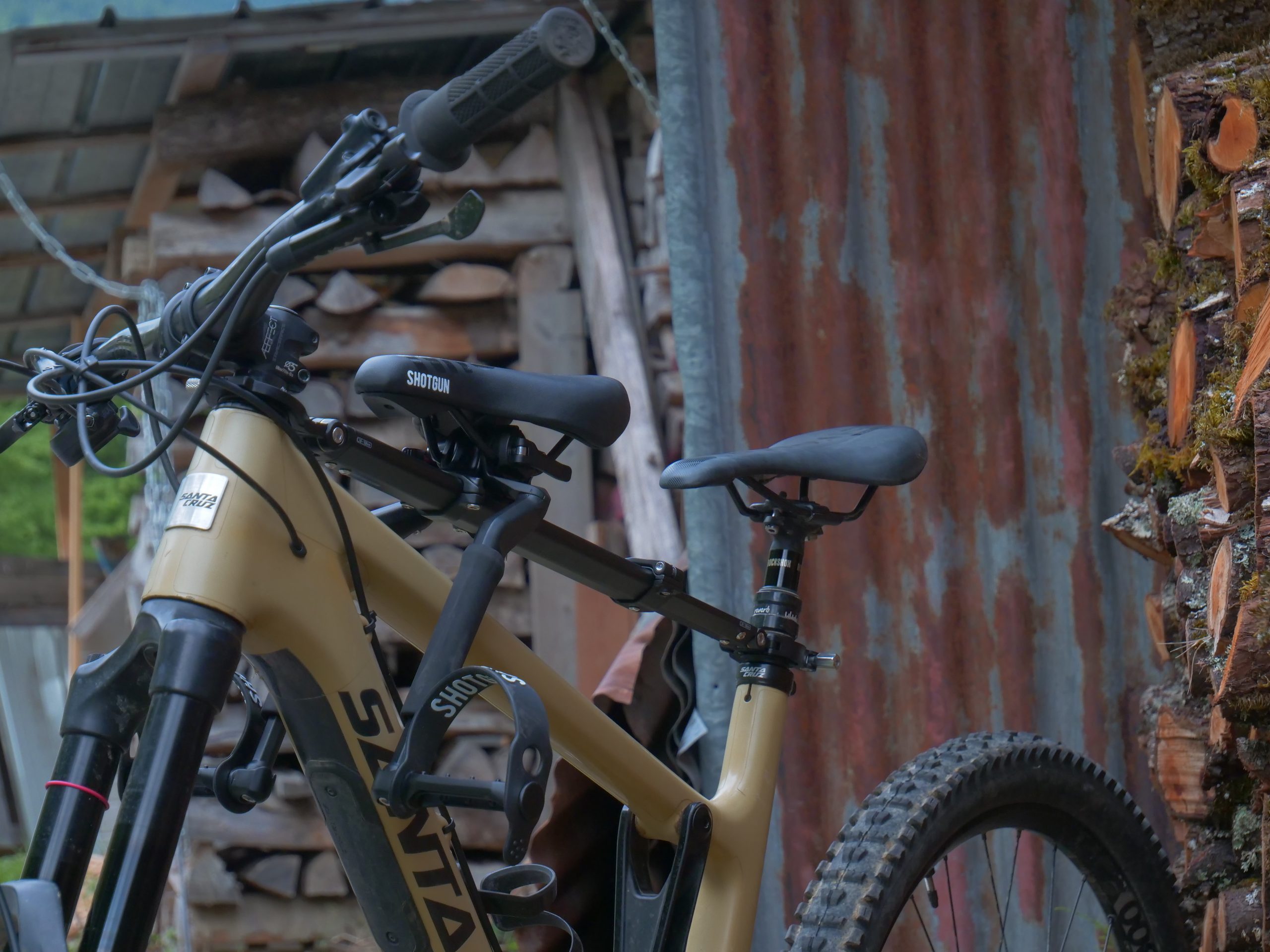 Key Features Of The Pro Seat
Zero frame contact design
Compatible with most bikes
Quick to fit, and swap between bikes
Age 2-5 (adjustable as they grow)
mudguard and Allen keys included
Cool stickers included
Free shipping
How Long Does The Seat Take To Install?
For the initial installation, it should take the average person around 15 – 20 minutes to install the Kids Ride Shotgun Pro Seat. Remember to ensure you have 10mm of space under your stem for the compatible spacer, you might need slightly more if you have a very short stem. Once the initial first installation is complete, each subsequent fitting only takes 1 – 2 minutes.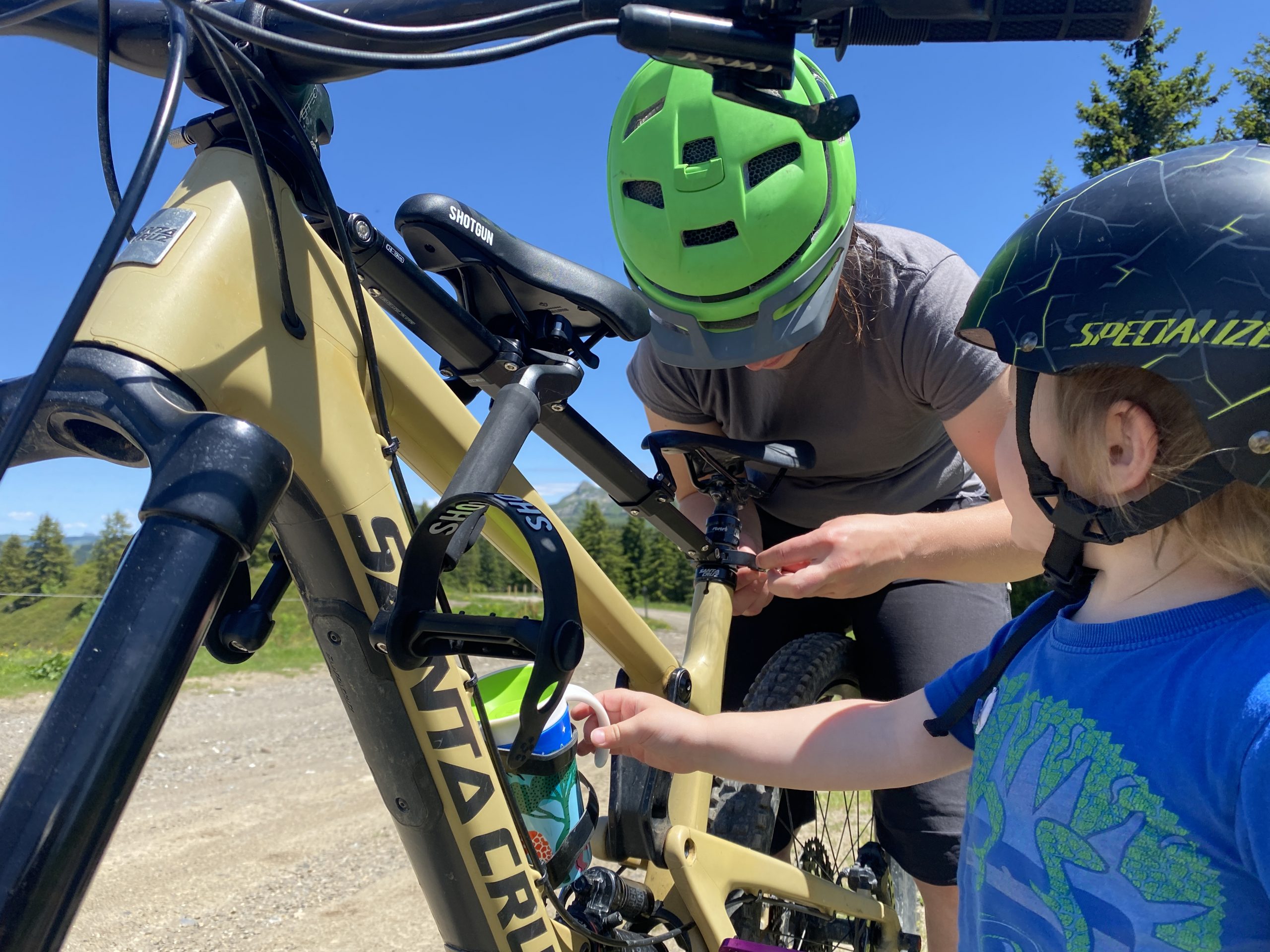 Can The Kids Ride Shotgun Pro Seat Be Removed Easily?
Yes, you can remove the seat from any bike in about 20 seconds. There is a quick-release clamp on the seat post and fast releasing screw that releases from the stem spacer.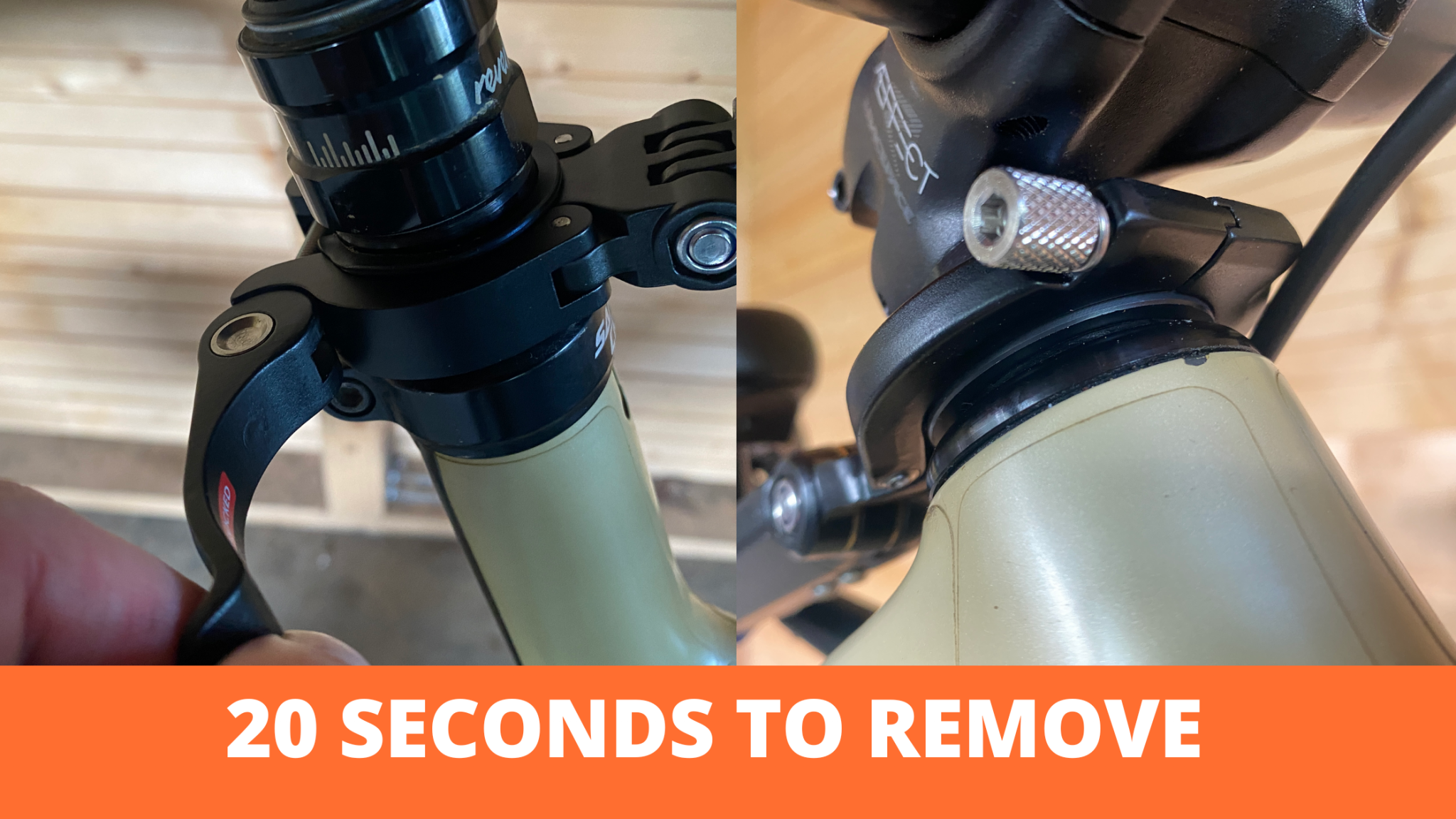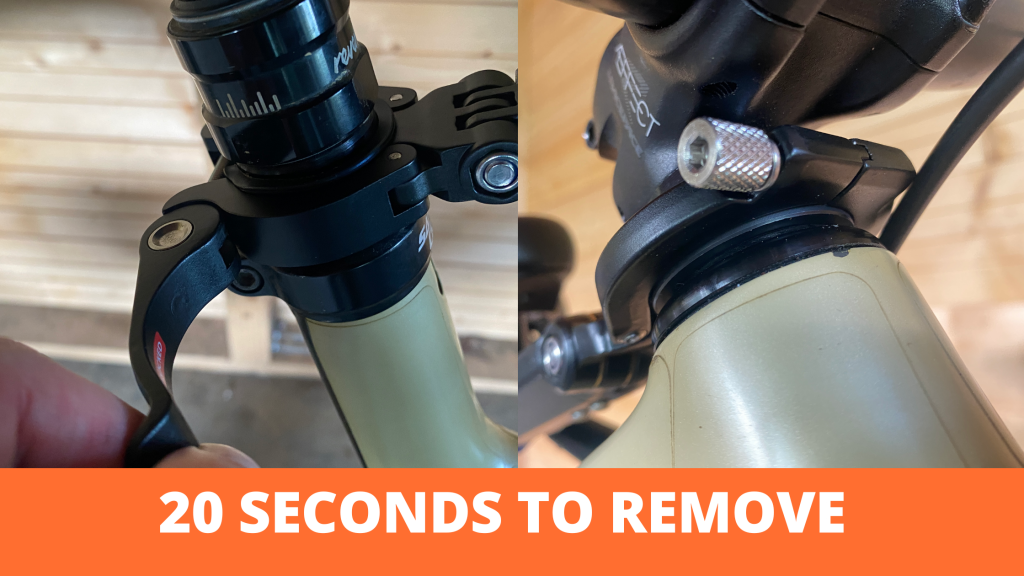 Is The Kids Ride Shotgun Pro Seat Interchangeable Between Bikes?
Yes, the Kids Ride Shotgun Pro Seat is easily interchangeable between bikes. All you need to do is make sure the bike has a compatible stem spacer, 2 stem spacers are included in the box when purchased new. The easy fitting, removal and bike interchangeability are one of the things that set this seat apart from other children's MTB seat options.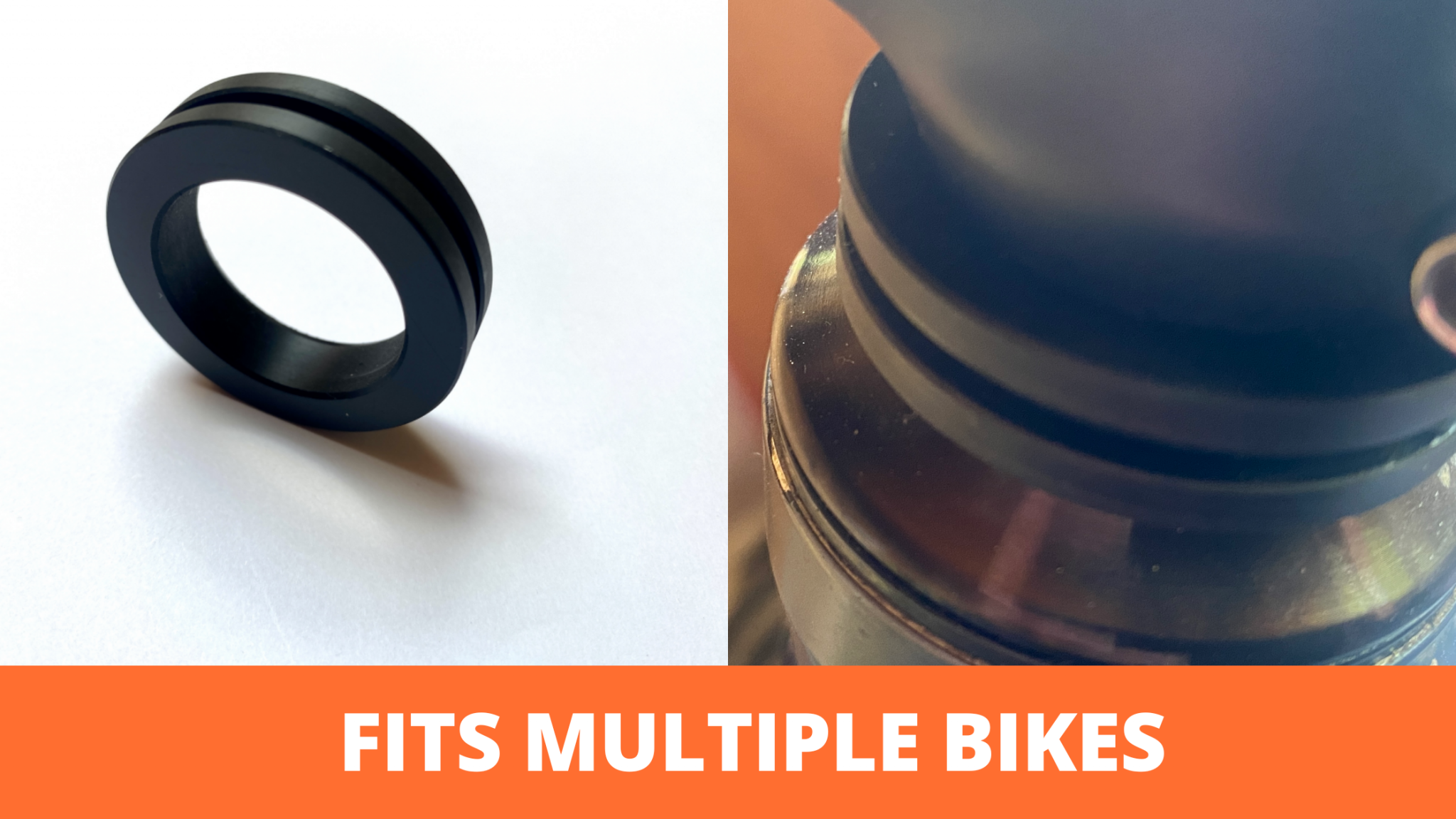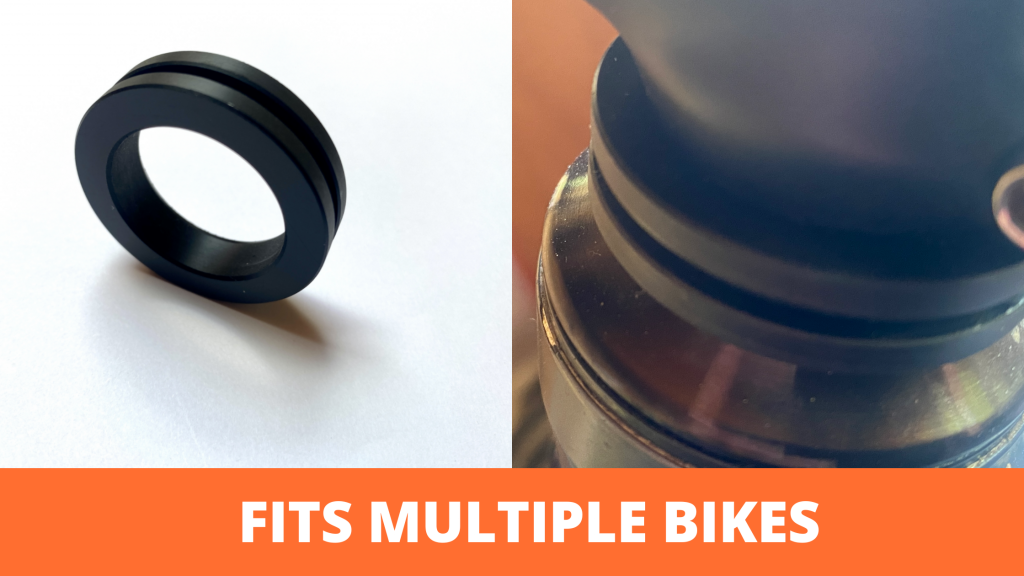 How Much Do Kids Ride Shotgun Pro Seats Weigh?
The Kids Ride Shotgun Pro Seat weighs 1922 grams (4.2LB). I think this weight is pretty good considering how robust and well-made the seat is. Also, weight is relatively negligible considering you'll be adding the weight of a child to the seat too.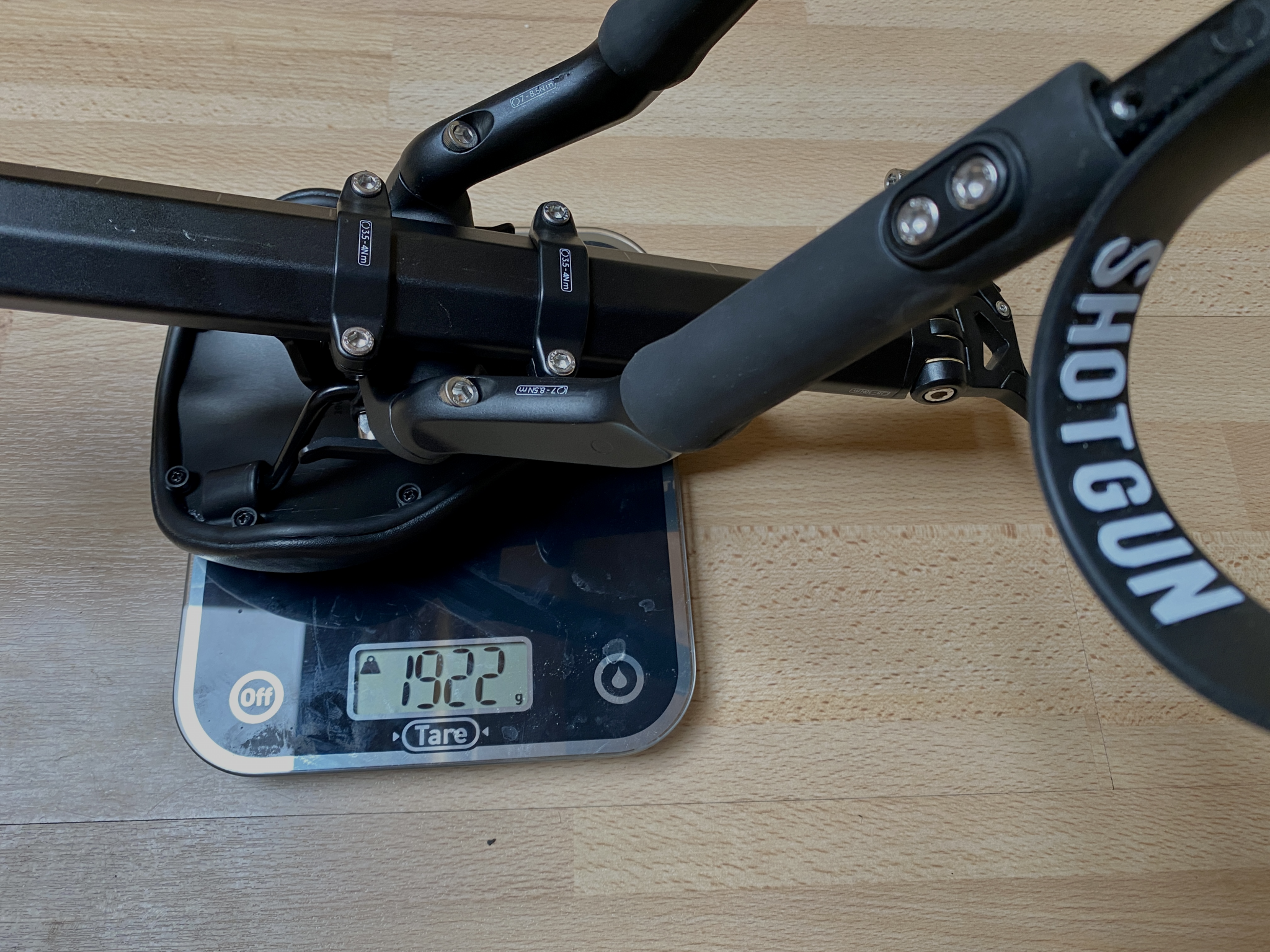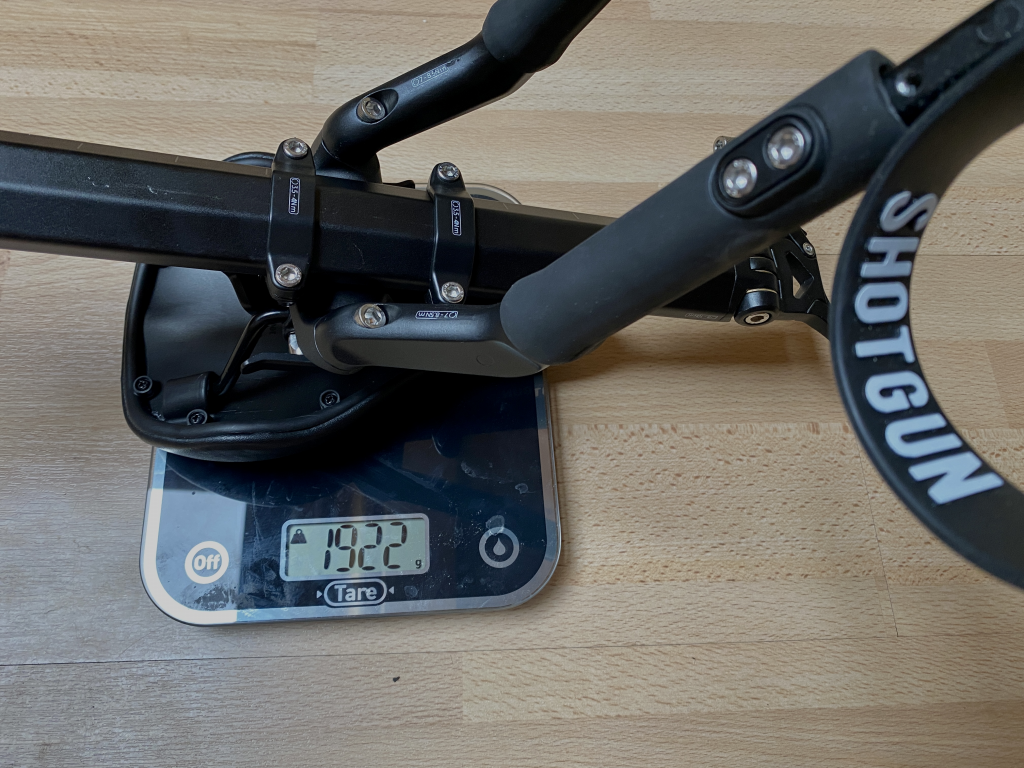 What Age Range Can Use The Kids Ride Shotgun Seat?
The seat is designed for ages 2-5 years old, or up to 60 LB (27 KG).
The age your little one can start using the Shotgun Seat depends on how well they can hold on, and trust they will keep holding on. We found around 2.5 years old was good for our little one, as they can take some instruction while you're riding.
Can You Do Jumps And Drops With The Kids Ride Shotgun Seat?
Some people do jumps and drops with their kids on their Shotgun seats. Personally, we didn't feel comfortable doing anything too extreme. I think the pro seat provides a great opportunity to share mountain biking with your little shredder from your perspective. I don't think your little one is going to have loads more fun by taking risks.
How Far Can You Ride With The Kids Ride Shotgun Seat?
Some people go riding for hours with their kids on their Shotgun seats, which is perfectly fine. Personally, I think it depends on the child's age, strength and ensuring they're not too hungry or tired. All kids are different, but I would say 45-60 minutes is a good amount of time for a little shredder.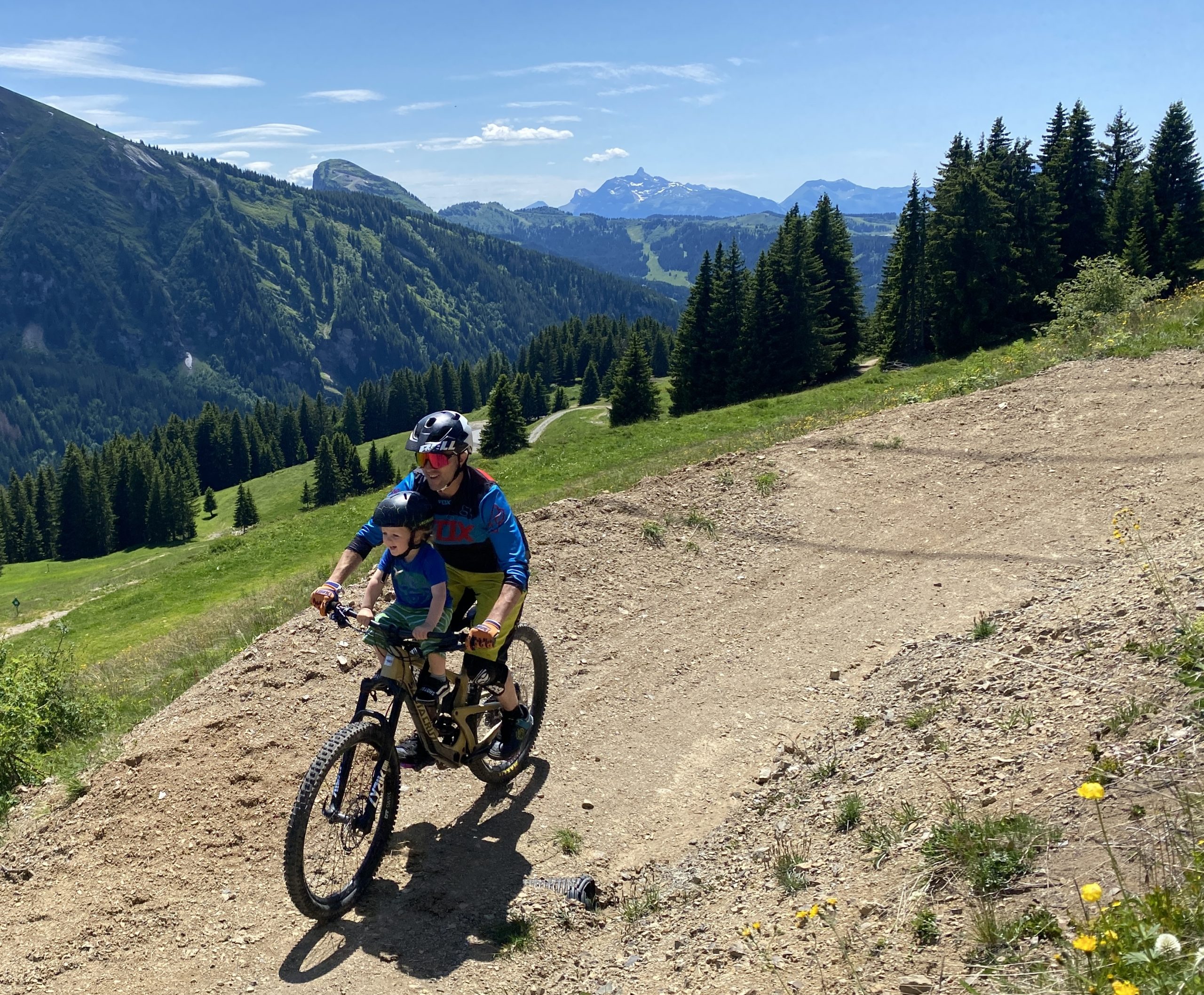 Is The Kids Ride Shotgun Seat Well Made?
The Kids Ride Shotgun Pro Seat is very well designed and well made. It's clear that a lot of work has gone into designing and developing the pro seat as it's robust and compatible with most bikes and different-sized kids.
If you are interested in learning more about how they developed the seat you can learn more here.
Who Are The Kids Ride Shotgun Pro Seat Aimed At?
The Kids Ride Shotgun Pro Seat is aimed at intermediate to experienced families that are looking to ride off-road with their little shredder. If you are a novice rider it might take a couple of rides to feel comfortable with having the extra weight on the bike.
For the more experienced riders, the Pro Seat is a great way to share how to ride a bike from your point of view, they can feel where they need to move their weight backwards on steeper sections or learn to lean the bike in turns. It's also fun because you can chat, play games and give instructions as you go.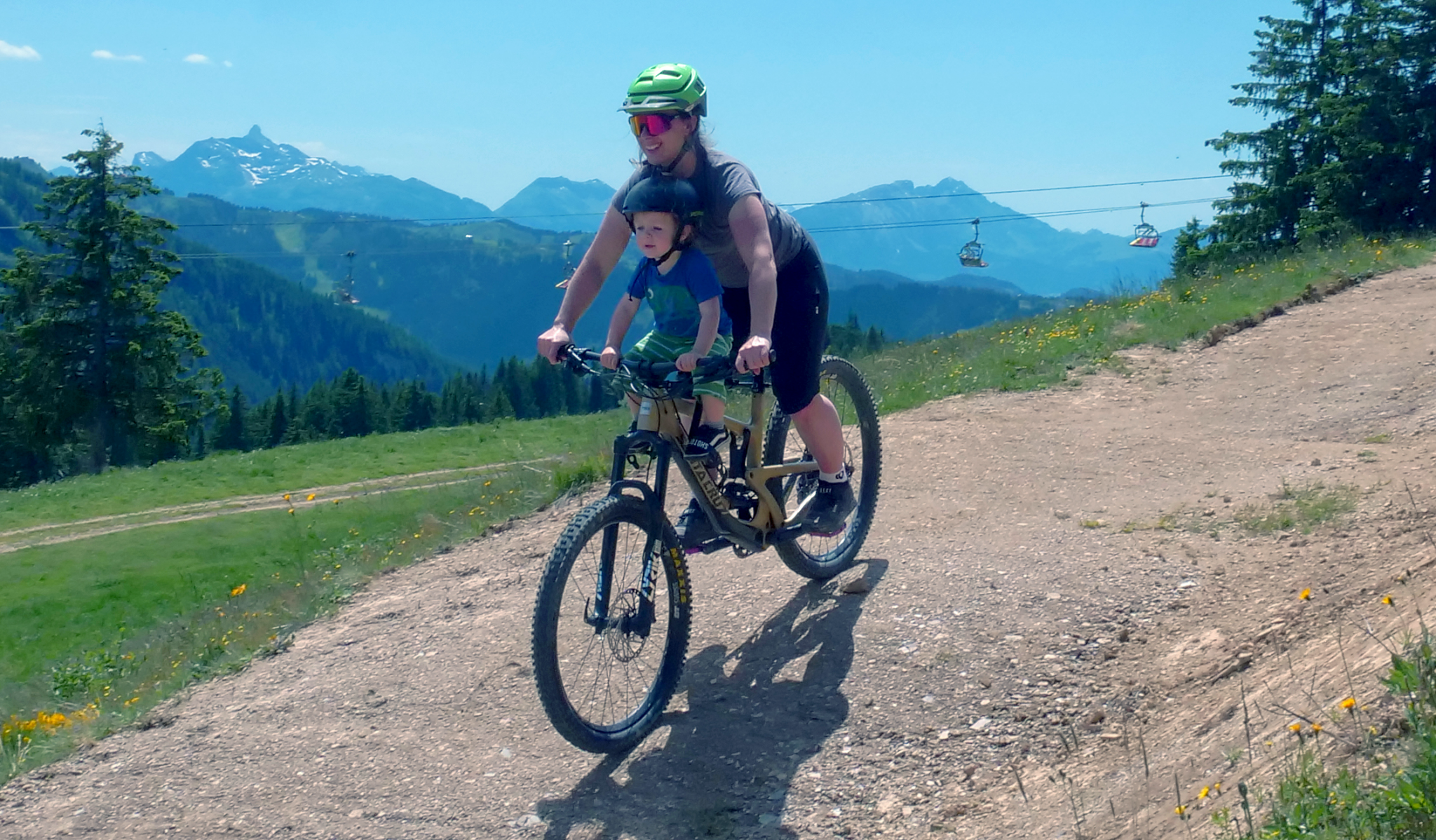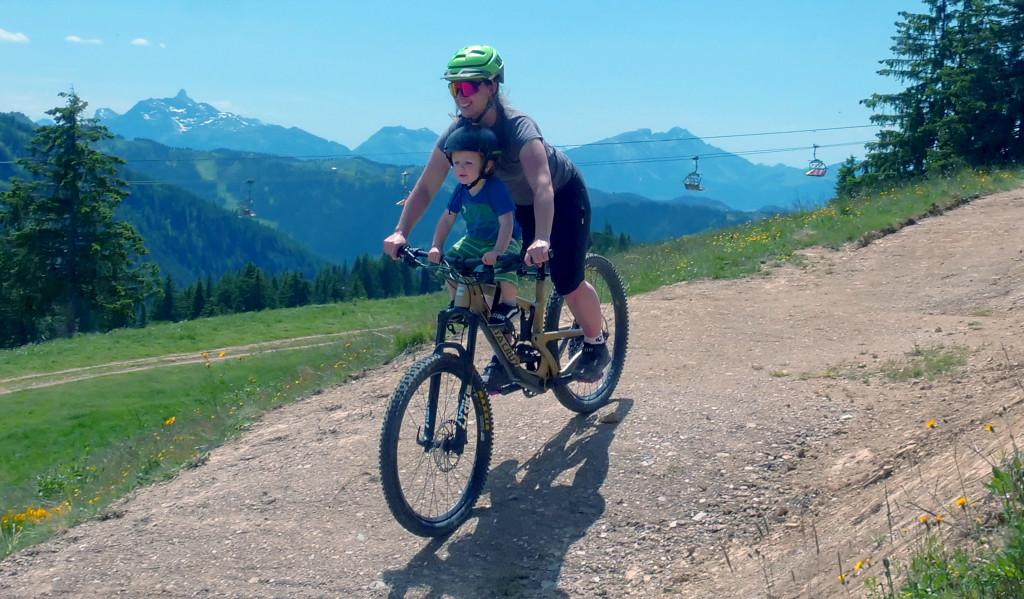 Is There A Weight Limit For The Pro Seat?
yes, it's 60 LB (27 KG). Which I think is more than enough, as much more could dramatically affect the handling of the bike.
Where are Kids Ride Shotgun From? What Are Their Values?
Kids Ride Shotgun are from New Zealand and was founded by Tom Hayward and Dan Necklen in May 2017. Their seat was born from the need to solve their own problem, they wanted to ride with their 3 kids but instead, one parent rode while the other waited in the car park with the other kids. A bike seat seemed like a good option but at the time the only products which existed were either not mountain bike compatible or would risk scratching the frame.
The brief was simple, make a seat that's compatible with high-end full-suspension mountain bikes which mountain bike families will enjoy using. They made and tested several prototypes, and used lots of feedback from MTB families and retailers to settle on a design everyone was happy with.
Moving forward to the present day, they have a number of products including the kids Pro Seat which has zero contact with the frame and is interchangeable between bikes. The brand now has become a leading brand globally in the mountain biking with kids category.
If you would like to read more about their story you can see learn more on their website here.
Their Values:
They believe in getting kids off devices and onto mountain bike trails
They believe in parents spending quality time with their kids
They believe in fostering a love of nature and the outdoors
How Is the Pro Seat for Riding Uphill?
The Pro Seat is surprisingly good on the uphills if you have the seat set up correctly so you have enough room to pedal comfortably. That said, you obviously have the extra weight of the child and the seat which can give the legs an extra workout. If you want an easy ride up with the Pro Seat then an e-bike could be the answer.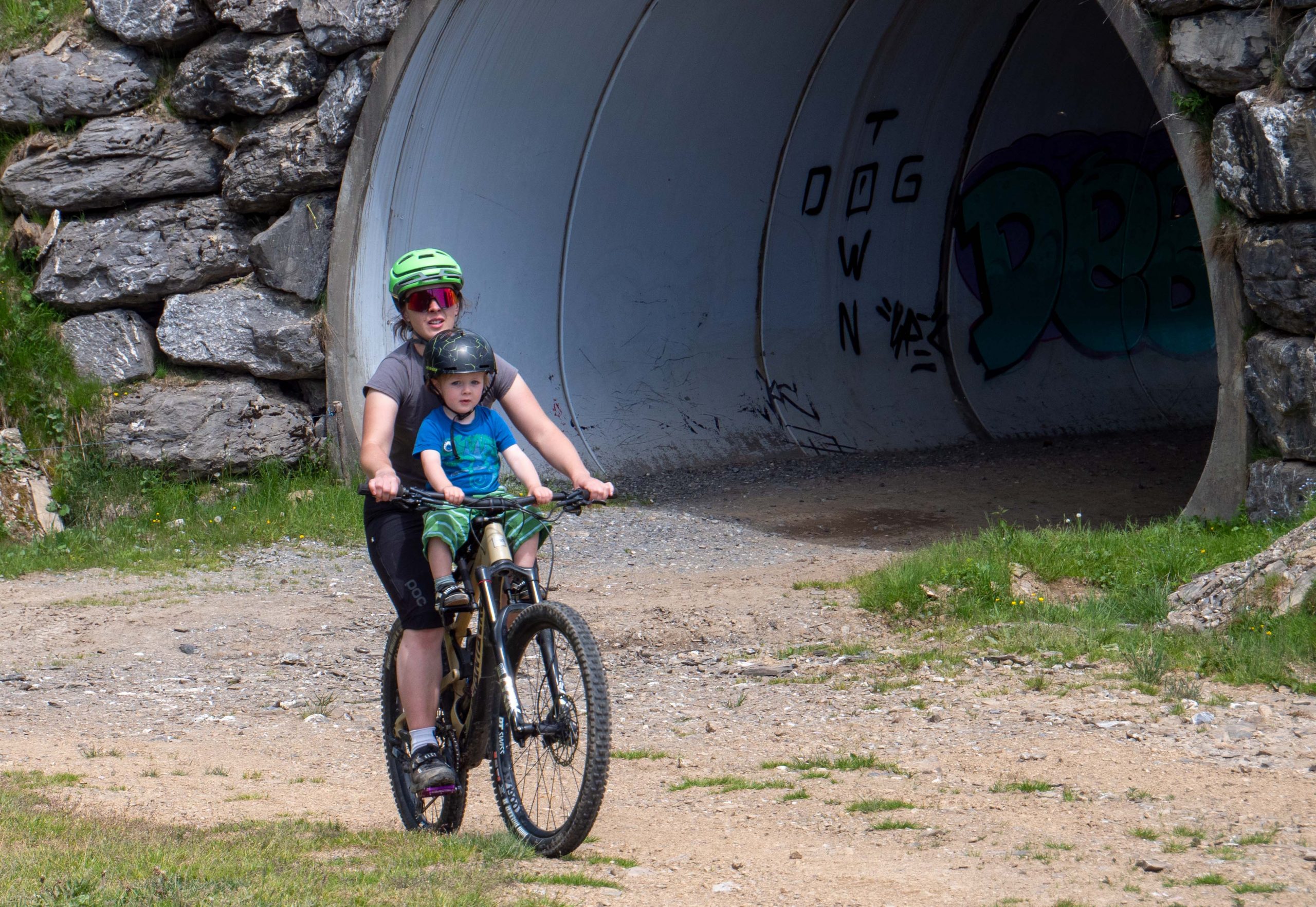 Can You Use the Kids Ride Shotgun Pro Seat on The Road
I have seen people use the Shotgun Pro Seat on the road, and it's perhaps fine for a few minutes between trails. Although personally, I prefer to avoid using it on the road as much as possible. As other road users don't always leave enough space, which can be quite unnerving.
Final Thoughts
For us, the Shotgun Pro Seat is a great solution to share what we love with our little one. It allows him to experience the wind on his face, the flow of the trail and the ultimate freedom a mountain bike provides. We feel the Shotgun Pro Seat is a great way to learn skills and inspire a passion lifelong for bikes!
We have also just done a Shotgun Pro Bars Review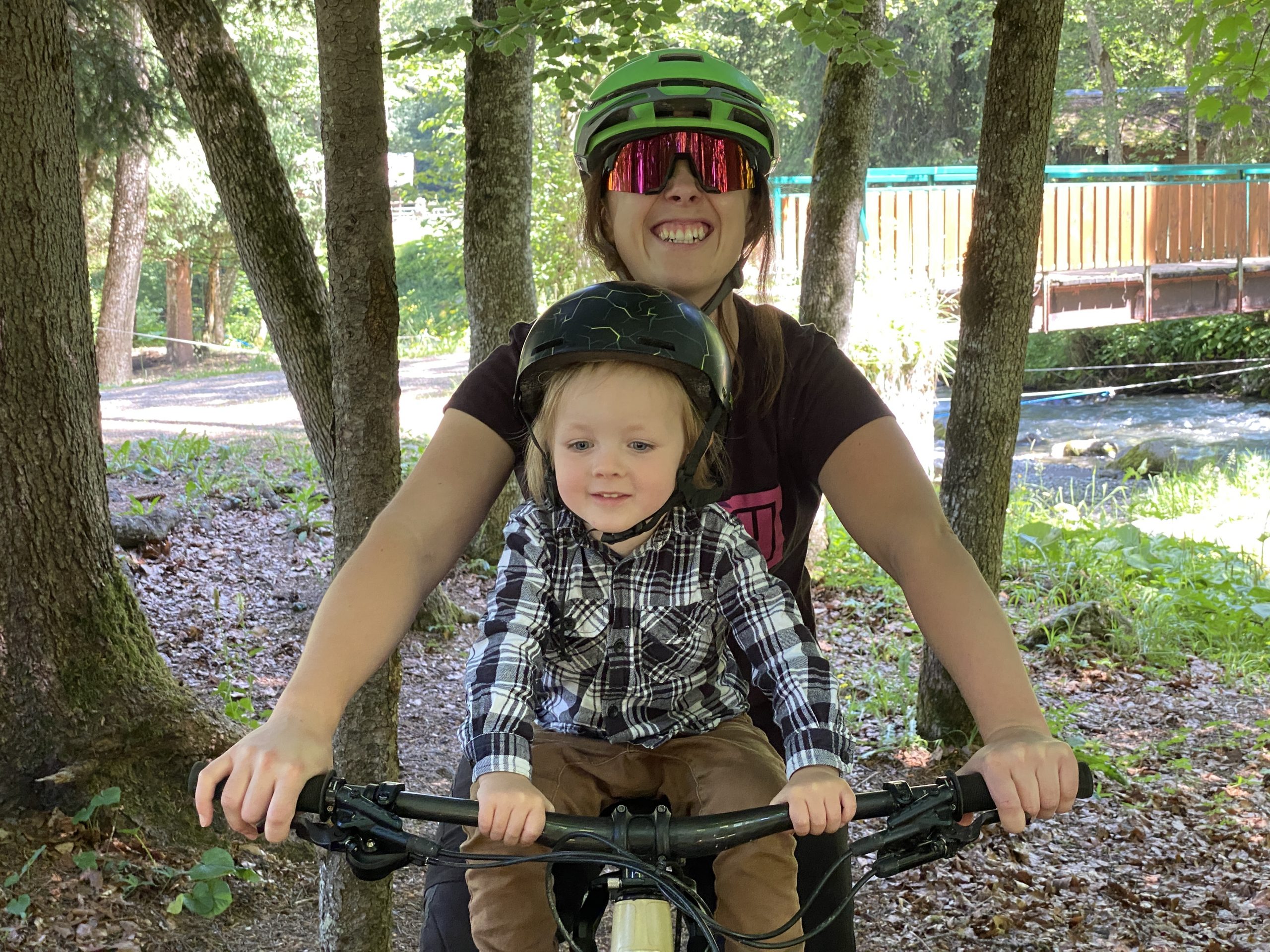 You might also be interested in: