Mountain Bike Statistics (30 Interesting Facts & Numbers)
If you're like us, you love all facts and stats to do with mountain biking. So we have done our best to compile all the best stats and juicy facts we can think of. Everything from, the fastest speed on a mountain bike, to the Percentage of World Wide Mountain Bike Sales.
30 Mountain Bike Statistics
1. When were bikes first ridden off-road?
The first record of mountain bikes being ridden off-road was back in the 1890s by the buffalo soldiers. The bike was seen as much more efficient than horses as they didn't need feeding and couldn't be killed in battle. If you would like to learn more about the history of mountain biking we have an in-depth post here.
2. When did mountain biking become a sport?
The sport of mountain biking was born in the early 1970s. A group of hippies retrofitted beach cruisers from the 1930s with fat balloon tires and raced them downhill. These retrofitted became known as 'Klunkerz'.
3. Who invented the first mountain bike?
Joe Breeze built the first purpose built-in 1978. However, it was not until the early 1980s that mountain bikes were mass-produced by road bike companies like Specialized with their stump jumper.
4. What was the first mountain bike company?
The first mountain bike company was called 'Ritchey/Mountainbikes'. Tom Ritchey started building 26 inch wheeled mountain bikes in 1979. He built an impressive 300-400 bikes per year with 2 staff and a small workshop.
5. What's the most expensive mountain bike?
The House of Solid Gold 24k Gold Extreme Mountain Bike is the most expensive mountain bike, with a price tag of $500,000. Only 13 bikes were ever made, most likely because it took 750 hours to finish every single bike due to the tricky electroplating procedure.
6. Who is the oldest mountain biker?
An 84-year-old man from Wolverhampton in the UK called Alf. He only started mountain biking when he was 70 years old, and absolutely loves it.
7. What percentage of bikes ridden in the US are mountain bikes?
Out of all the people that ride bikes in the US, 25% of them ride mountain bikes – making them the most popular type of bike ride in the US. This is followed closely second by gravel hybrids.
8. How many people go mountain biking a year in the US?
40 million people from the US participate in mountain biking annually. Meaning just over 10% of the US population rides mountain bikes.
9. Who is the highest-paid mountain biker?
Aaron Gwin is the highest-paid mountain biker earning $1 million USD per year. However mountain biking is a fickle sport, and the amount a mountain biker earns massively depends on results. If you think 44 people have only ever won a DH world cup, and more than half of those people have only ever won 1 world cup.
10. Number of male vs female mountain bikers
Researchers found 83.9% of mountain bikers are male. Making it around 2 out of every 10 mountain bikers are female. However, in recent years there has been a massive upwards trend in female mountain bikers, so the numbers are expected to change over time.
11. What is the greatest distance ridden on a mountain bike in 24 hours
ADRIAN ELLUL rode 577.78 km (359.02 miles) in 24 hours o the 9th of October 2015 in McLennon Park, Walkerston, Queensland, Australia.
12. What is the fastest speed on a mountain bike?
The fast speed on a mountain bike is 141 MPH (227 KMH) set by Eric Barone. Eric was 56 years old at the time and achieved the record by traveling down a snowy ski piste in the French Alps.
13. What is the longest jump done on a mountain bike?
The record is at 141 ft (43m). Set by Fabio Wibmer in 2018.
14. Which EU country produces the most bikes?
Portugal produces the most bike in Europe at over 2.6 million per year. Italy is in second place at 2.1 million bikes per year and Germany in 3rd producing 1.3 million bikes per year.
15. What is the lightest mountain bike of all time?
The lightest fully built mountain bike weighs just 4.5kg (9.9lb). Made by the ultimate weight weenie Seb.K- he's fabricated most of his own parts from carbon fiber including carbon fiber disks.
16. Most popular mountain bike discipline?
A large survey of mountain bikers reported over a 2 year period:
92.9% participated in cross-country & trail riding
56.3% participated in enduro riding
30.9% participated in Downhill
4.5 % participated in trials, dirt jumping, slopstyle
It's no surprise that cross country and trail riding are the most popular disciplines of mountain biking. This is likely due to it being more accessible to a larger range of people because you can do it anywhere, and it's less risky than other forms of mountain biking. However, in recent years there has become a fine line between trail riding and enduro due to the bikes becoming more capable, which is resulting in a growing trend toward the more aggressive sport of enduro.
17. Who is the highest-paid mountain biker of all time?
In 2017 Aaron Gwin was reported to make around $1 million USD making the highest-paid mountain biker of all time. Up until 1996, the best mountain bikers didn't earn more than $50,000 per year. Then an American rider called Shaun Palmer landed a $300,000 contract the with Mountain Dew Specialized Bicycles team, which completely changed people's perceptions of the value of top-level professional mountain bikers. However, since 1996 there has only been a handful of people that have earned more than $300,000 in one year.
18. What is the risk of death in mountain biking?
The mortality risk in mountain biking is 0.02 per 1000 persons taking part in several ventures per year. This statistic is the same as mountain hiking.
You can see the original german study here.
19. How big is the mountain bike industry?
The Global Mountain Bicycles Market was valued at $7.38 Billion (USD) in 2018 and is projected to reach over $10 Billion (USD) by 2026, growing at a CAGR of 3.8% from 2019 to 2026. The global production of mountain bikes was estimated at 44.2 Million Units in 2020 and is projected to reach over 72.3 Million Units by 2026
20. Is mountain biking mainly for the middle class and over?
A survey found that over half of mountain bikers in the US come from households that earn over $75,000 per year. This makes mountain biking predominantly a middle-class and above sport. This is most likely dues to the high cost of a good mountain bike and all the equipment that goes with it.
21. What is the greatest vertical descent in 24 hours on a mountain bike?
The most vertical descent achieved on a mountain bike in 24 hours is 40,840.5 meters (133,991 ft 1 inch). This was achieved by two German men, Amir Kabbani and Patrick Schweika, during the mount psychosis downhill race in Schladming, Austria on 11-12 October 2018.
22. What is the longest wheelie on a mountain bike?
1-hour record – The furthest wheelie in 1 hour on a mountain bike is 30.95 kilometers (19.23 miles). This record was achieved by Manuel Scheidegger on the 12th of September 2020. Manuel's record took place on a 400-meter running circuit in Gümligen, Switzerland.
The longest bicycle wheelie journey is 4,569 km (2,839.6 miles). Kurt Osburn wheelied a bicycle from Hollywood in California to Orlando in Florida between 13 April and 25 June in 1999.
The longest duration bicycle wheelie is 11 hours. Kurt Osburn wheelied. for 11 hours, covering a distance of 88.75 km (55.15 miles) in 1998 at the Anaheim Convention Center in California.
The fastest bicycle wheelie (on the rear wheel) went 138.56 km/h (86.1 mph). This was achieved by Bobby Root in Palmdale (California) on 31 January 2001. Bobby slipstreamed a vehicle to allow him to reach the necessary speed before performing his wheelie.
23. What is the greatest distance ridden on a mountain bike in 48 hours?
The longest distance ridden on a mountain bike in 48 hours is 571 km (354.8 miles). This record was achieved by Dave Buchanan, 41, from Hengoed in Wales, UK. he rode his mountain bike between Cardiff and Caernarfon in a 48 hour period.
24. What is the highest mountain bike slack ride?
Kenny Belaey rodes his mountain bike over a slackline with a 112m drop in the French Alps at an altitude of 2700m.
25. Which male mountain biker has the most world cup wins?
Minnaar currently has 23 world cup downhill career victories. Making him currently the best male downhill mountain biker of all time.
26. Which female mountain biker has the most world cup wins?
Rachel Atherton has 39 world cup wins to her name, and also holds the record for the most consecutive world cup wins – with 10 in a row.
27. Most downhill world championship wins?
Nicolas Vouilloz won the downhill world championships 10 times. He won his first world championships as a junior in 1992 and his last win career wold champs win in 2002.
28. Percentage of World Wide Mountain Bike Sales by brand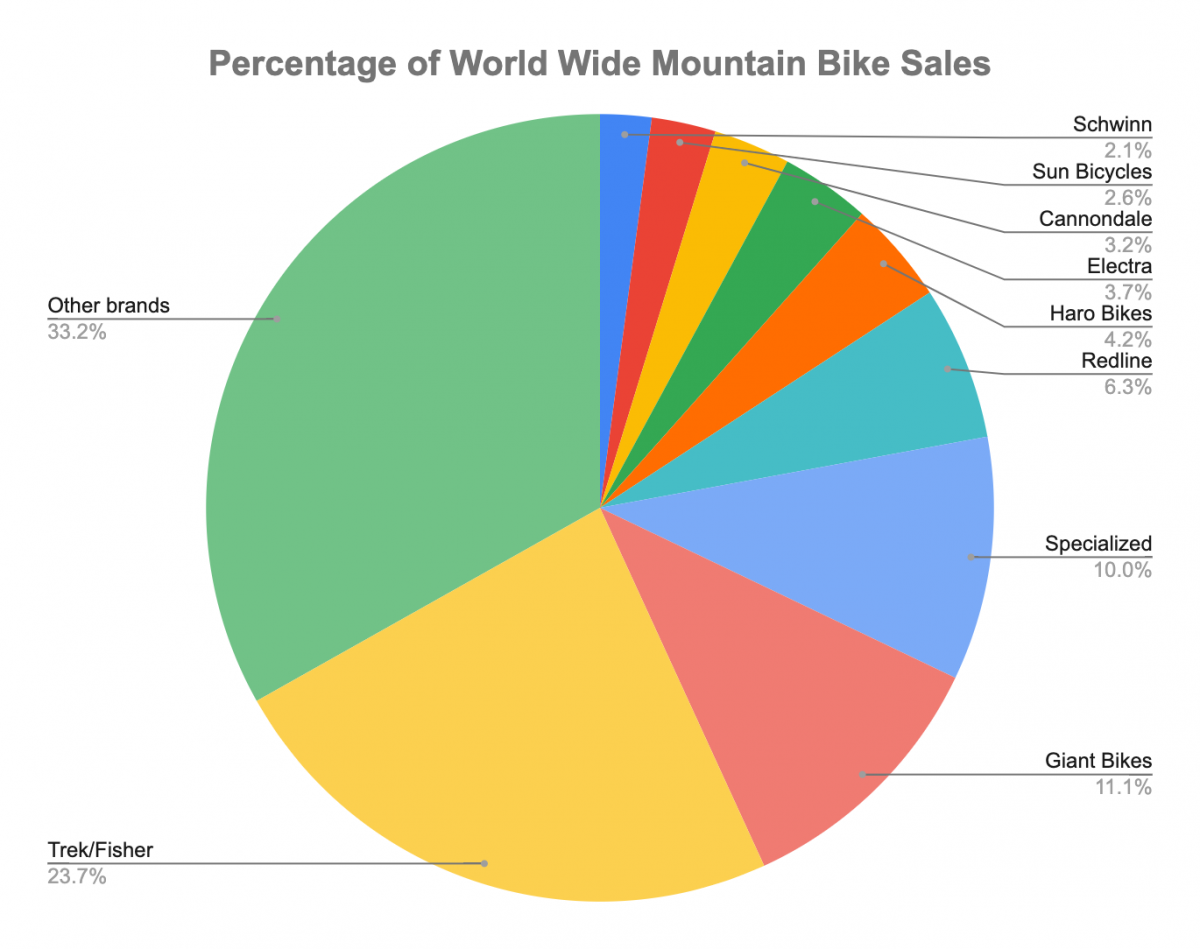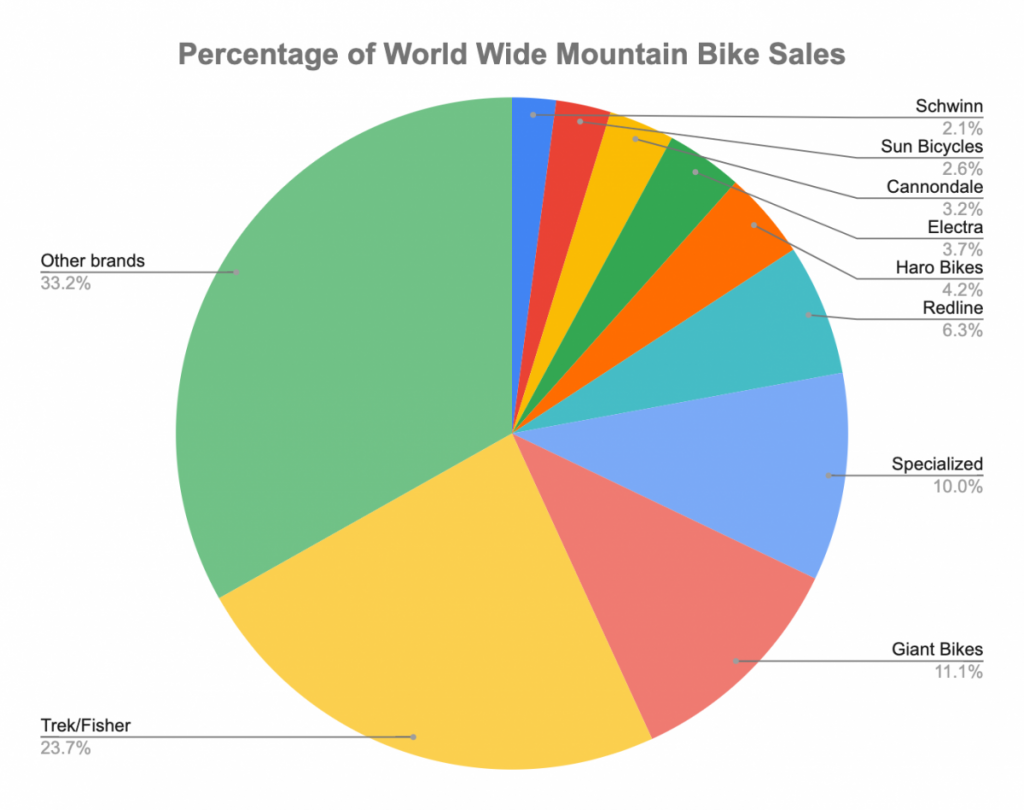 29. Number of bikes being produced around the world?
In 2021 there were 364,000 bikes being produced every day. Meaning that 15,000 bikes are produced every hour.
30. What is the biggest winning margin in a world cup downhill race?
The biggest world cup winning margin is 14.02 seconds by Chris Kovarik back in 2002 in Fort William
If you enjoyed this article you should check out: