Downhill Mountain Bike Buyers Guide
Downhill Mountain Bike Buyers Guide
If you have ever watched the world cup downhill racing on Redbull tv, or seen people going crazy fast down mountains on Instagram, and you've finally decided you want to give go, then this downhill mountain bike buyers guide is for you!
In this guide, we walk you through everything you need to know about choosing a DH bike. If you're a complete beginner we will talk you through all the different options from frame sizing, geometry, materials, and recommended components. For the more experienced DH riders, we also take a more in-depth look at all the different options available to help you squeeze every last second out of the gnarliest DH tracks in the world.
What Is A Downhill Bike?
A downhill mountain bike is a big full suspension mountain bike designed to go fast over jumps, drops, and gnarly rocks. Most mountain bikes aren't easy to identify their intended purpose, as most look quite alike. However, DH bikes are the exception, their long-travel suspension, huge disk brakes, and fat tires, clearly show they're designed to go as fast as possible down the roughest mountain bike tracks in the world.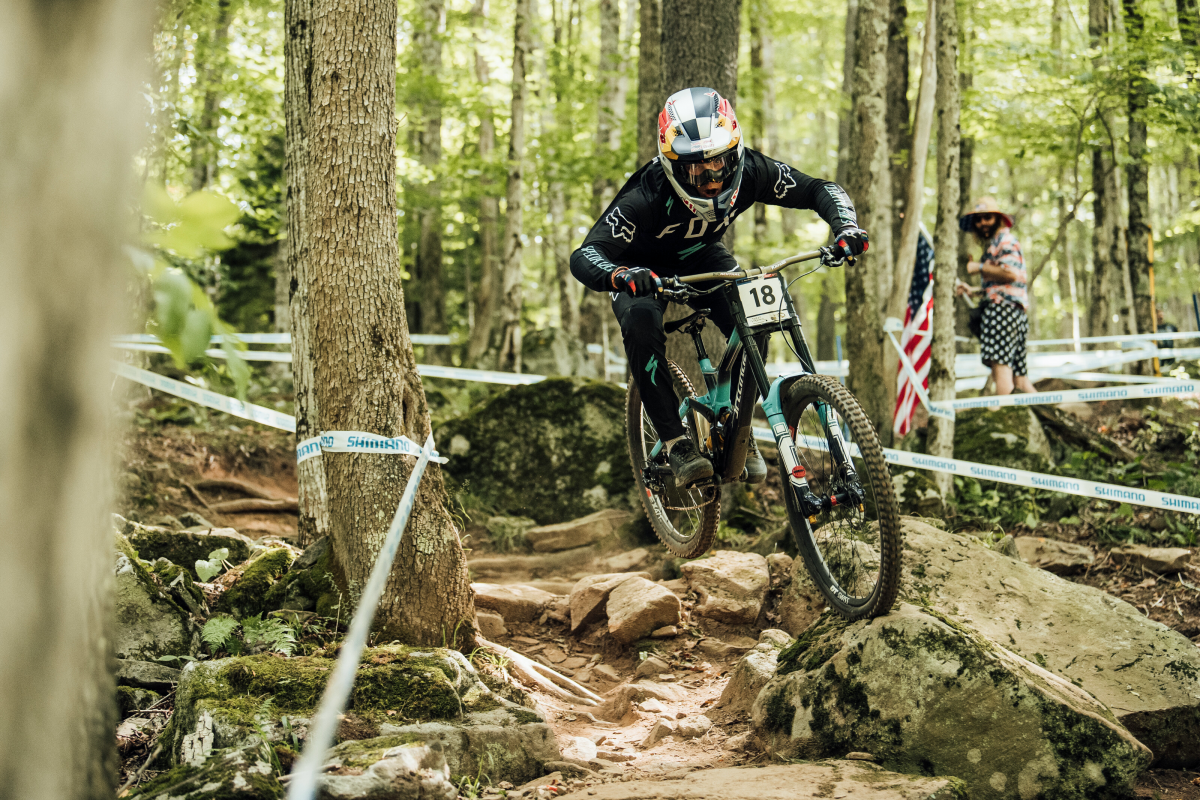 The latest downhill mountain bikes are the result of decades of innovation from world cup downhill racing. These races are won or lost by milliseconds, which weeds out the fads and selects only the best attributes for future generations of DH bikes. This constant fast-paced evolution has resulted in bikes that are unbelievably capable, and fun to ride!
Is Buying A Full DH Bike Worth It?
With the invention of extremely capable enduro bikes, people are starting to question 'is it's worth buying a full DH bike?'. The honest answer is a full DH bike will be too much for most riders. However, if you plan on racing, riding uplift days, or have chairlift access then a DH bike could be the one for you! If you only ride a trail bike it can be easy to forget how amazingly fun DH bikes are! They are so unbelievably fast and stable, and they allow you to get away with so many mistakes. No matter how good trail bikes get they will never be as fun to ride as a full DH bike on big tracks.
Our advice is if you can only afford one bike then buy an enduro bike, as they are extremely good on the downs, but you can still pedal it back up. However, if you're fortunate enough to have a selection of bikes then a DH bike is a must-have!
How Much Do Downhill Bikes Weigh?
The average weight of a downhill bike is 35lbs (15.8kg). DH bikes normally range from around 32lbs (14.5kg) to 40lbs (18.1kg). Although people have managed to get DH bikes sub 30lbs although this normally often involves sacrificing the strength of some key components and running 3 disk bolts (not recommended).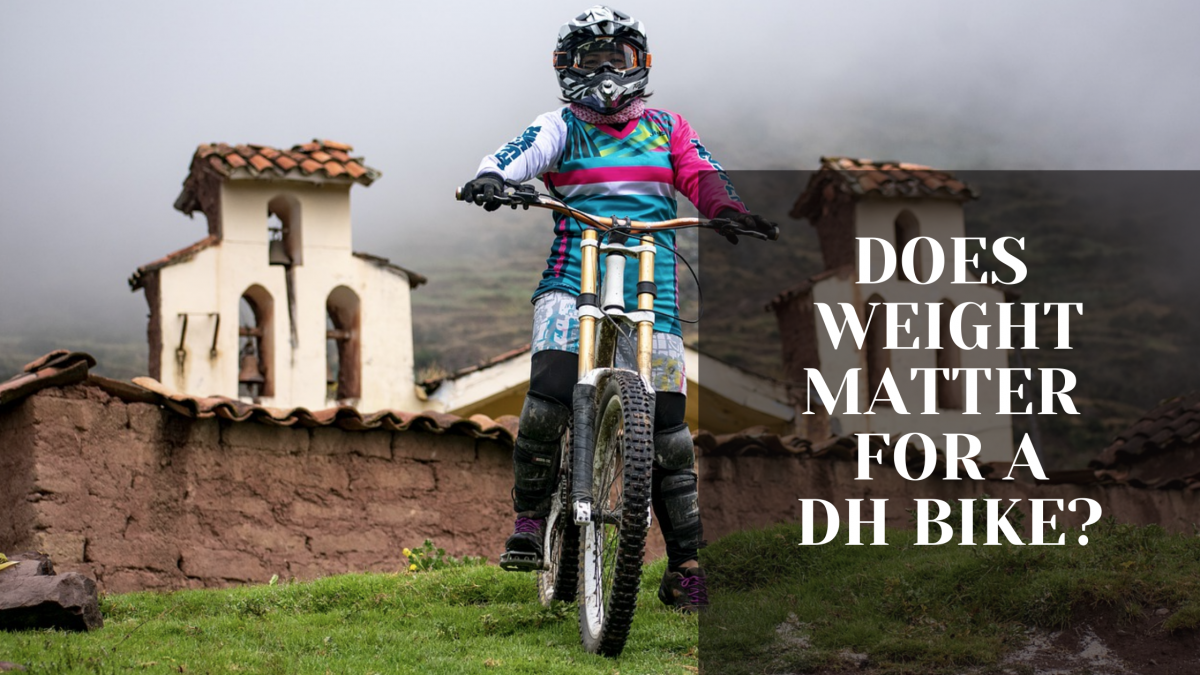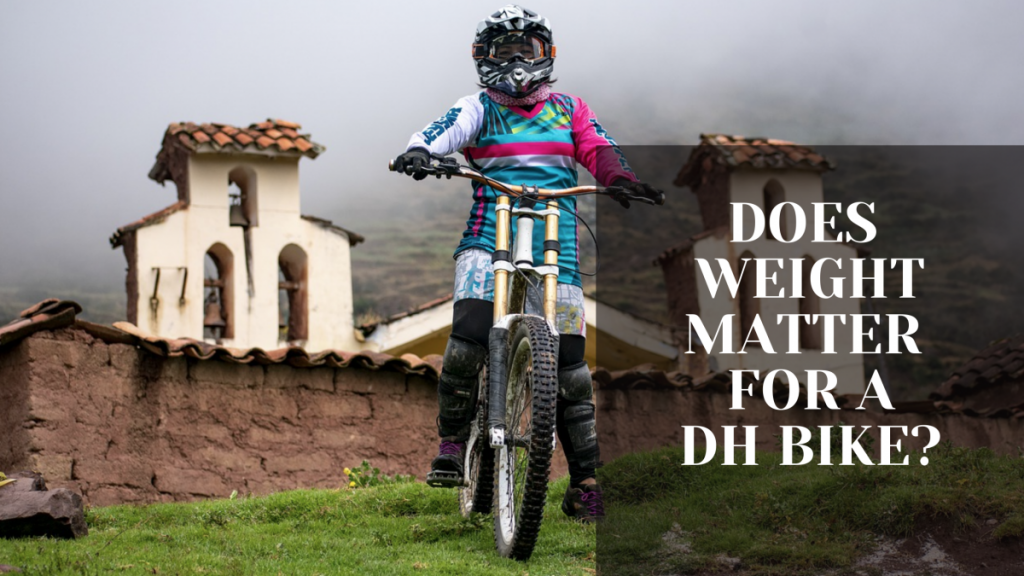 Does Weight Matter For A DH Bike?
If you're above average body weight then a DH Bikes weigh within reason (sub 38lbs) should not be a big issue. However, for less experienced, lighter, younger, or shorter riders heavy DH can be challenging to ride. For people struggling with the weight of a big DH bike, it can actually be beneficial to switch to a lighter long-travel enduro bike. Also, it's good to note that it's important where the weight is on a DH bike, some pro riders actually like to add weights to the bottom bracket area of their DH bikes, saying it actually helps improve traction and performance.
What Size Downhill Bike Do I Need?
Unless you get a bespoke custom-made DH frame it's unlikely any frame will be the perfect size for you. This is because DH frame manufacturers have to make a few different size frames to fit many different sizes and shapes of riders. This means DH frame that sizing is on a scale unless you happen to be the perfect size for a frame which is unlikely. For example, the perfect size rider for a medium-size frame might be 5′ 7″ (170cm) if you happen to have a perfectly average limb length. Meaning that if you are slightly taller or shorter than 5′ 7″ a medium might be slightly too tall or short for a medium-size frame.
To put it simply if you size down the bike will feel more nimble/playful to ride at slower speeds, and if you size up it can be more stable allowing you to ride faster but can make tight turns a challenge for less experienced riders.
So How Do I Choose The Right Size frame?
First, you can start with our frame size calculator to give you a starting point. Then if possible we would recommend doing a bike test day or hiring the bike to try both sizes to see which you feel the most comfortable. As a rule of thumb if you are in between sizes,
Beginner – size down (will give you more control)
Bike park rider – size down (makes the bike more playful and easier to pop on jumps)
Advanced rider – size up (will give you more stability, and confidence to ride faster)
Racer – Size up (racing is about going as fast as possible, so a slightly larger bike might give you a little more confidence to squeeze out those extra seconds)
NOTE: Remember if you are not racing speed is not everything, and often a smaller bike can be more comfortable to ride.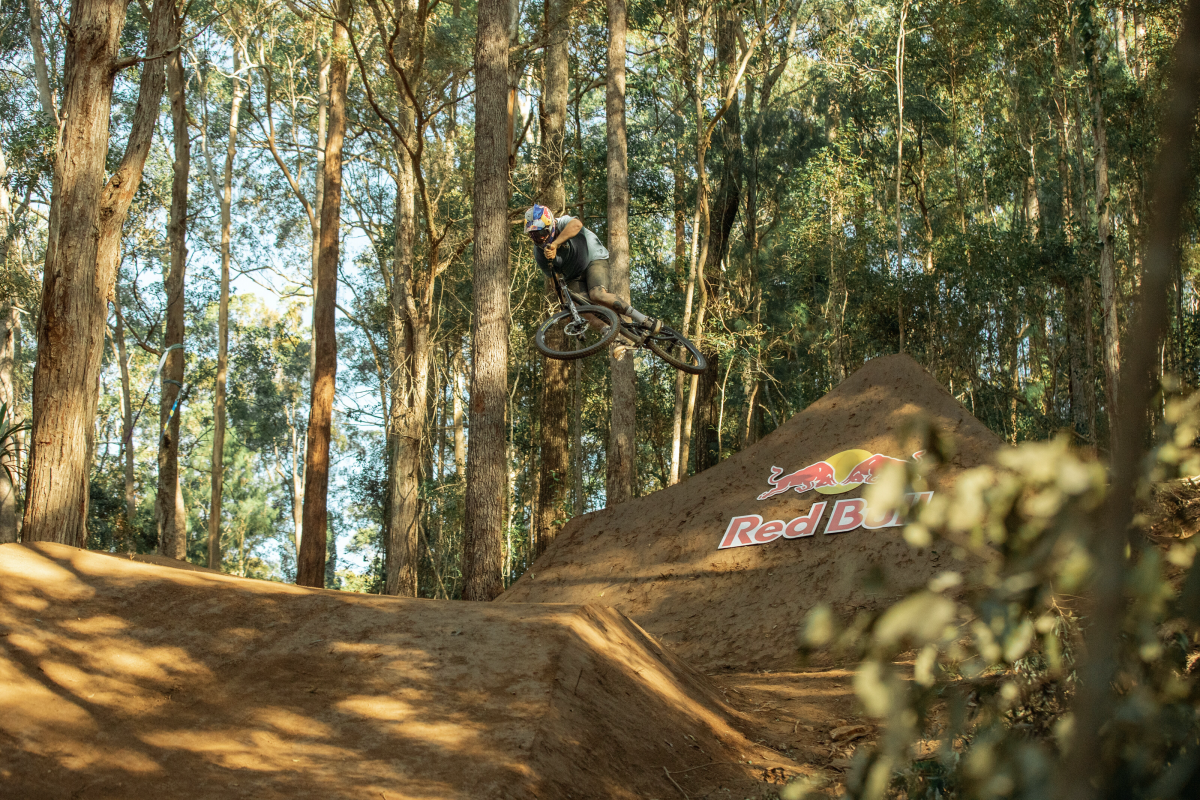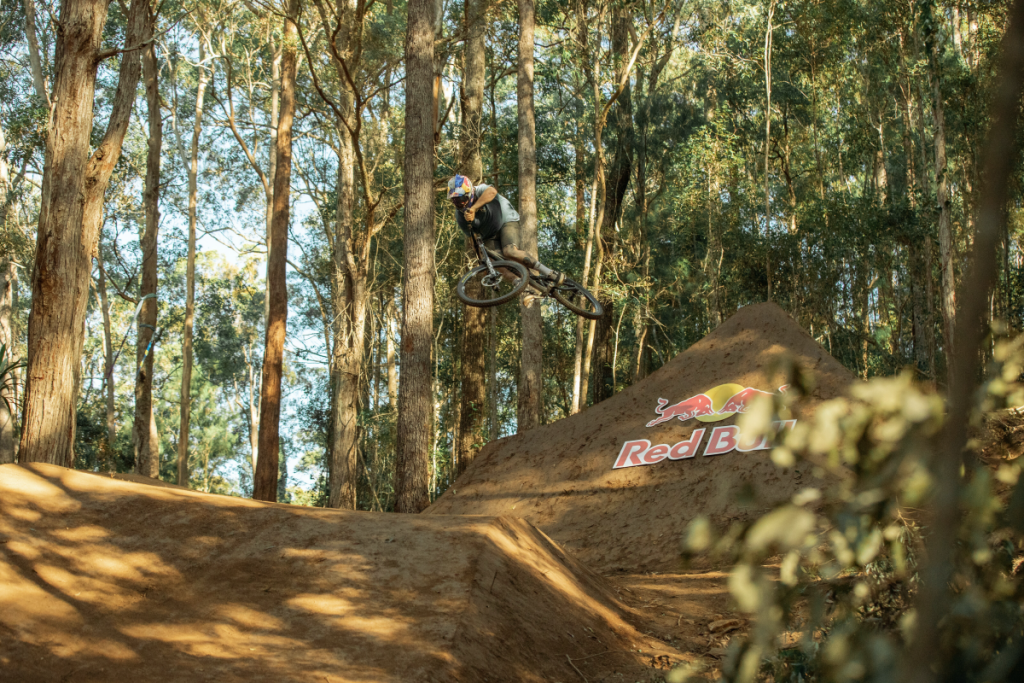 How Much Should You Spend On A DH Bike?
The average price of a new DH bike is around £3500,€40000,$4500. The price of DH bikes ranges anywhere from £1800($2400) to £10,000 ($12,000).
As with most mountain bikes the more you spend the better the components you get and having better components normally allows for more adjustability and less weight. For most riders, we would recommend aiming for a mid-range DH bike if your budget will allow it. This is because the low-end downhill bikes are often fitted with heavy components and suspension with limited adjustability, whereas most midrange DH bikes often have a good balance between adjustability and weight.
That said, if you have the budget to get the latest Dh bike then it's definitely recommended! High-end downhill bikes are an absolute pleasure to ride, and you can fully tune them for your riding style and track type!
You may find out Used Bike Value Calculator helpful.
Order Direct To Save Money
There are brands like Canyon and YT, which sell bikes direct to the consumer online. These brands cut out the middlemen with the aim of selling better bikes at a lower price to the consumer.
Is It Worth Buying A Second-Hand DH Bike?
Buying a used DH bike can be a good way to get a good spec bike at an affordable price. However, you need to know what you are looking for because DH bikes get a hard life, and buying second-hand bikes online does come with its risks. If you can always buy the bike in person, check the frame for cracks, inspect the suspension for damage, and ensure the wheels are still round. If you would like. to read more about the ins and outs of buying a used bike we have an in-depth post here.
Which DH Frame Material, Linkage, and Geometry To Choose?
When choosing a DH frame there are a number of different factors you need to consider. Many different aspects of frame design have both positives and negatives, which are worth being aware of before you make your decision on which frame to buy.
Carbon Fibre vs Aluminum Frames DH Frames
For many years carbon fiber has been the high-end mountain bike material of choice for most bike manufacturers, however in recent years, aluminum has been making a comeback!
Weight: Carbon fiber has a density of almost x 2 times less than aluminium and, 5 times less than Steel. This should make carbon frames 42% lighter than the same aluminum frame, however, in the real world the weight savings between aluminium and carbon mountain bikes are normally only between 10-20%.
Harshness: It's well known that carbon frames can be engineered to be less harsh to ride than their alloy counterparts, this is due to being able to control wall thickness in critical areas. However, in recent years there has been a dramatic improvement in aluminum technology making the gap between carbon and aluminum frames much less of a factor.
Strength: Carbon has a slight advantage when it comes to tensile strength, however, aluminum has a much better sharp impact and abrasion resistance.
Reliability: Aluminum closely beats carbon for reliability due to its ability to take sharp impacts better, however carbon fibre is easily repaired if damaged.
Sustainability: You can recycle both alumium and carbon fibre. However, carbon frames can last much longer if they don't get damaged, so could potenioanlly get more use compaired to their aluminum counterpart. Although carbon fiber frame owners are less likley to recycle compaired to owners of aluminum bikes. As for carbon footprint, many think alumium frames have less of an impact, although this is hard to quantify as there are many variables involved.
In a nutshell:
Alloy frames are often cheaper and slightly more resilient, so if you're on a budget an aluminum frame will do the job perfectly. That said If the budget will stretch to a carbon fiber frame there are a number of great performance benefits.
Check our post on Can You Trust Carbon Fibre Frames?
Understanding DH Frame Design
Mountain bike suspension designs come in quite a few different shapes and forms. There are positives and negatives to most suspension designs, so It's good to have a basic understanding before you choose a DH bike.
The basic types of linkage are:
Single pivot. Frames with a single pivot design have little control over their leverage curve, making them very linear. This means the suspension design does not ramp up towards the end of the travel. Another disadvantage of single-pivot designs is they are normally affected by anti-rise (brake jack) meaning that the force from braking interferes with the suspension. The main benefit of true single-pivot bikes is that they are easy to service and they require less maintenance.
Linkage-driven single pivot. The linkage-driven single-pivot still connects the rear axle directly to the front triangle. The difference between a linkage-driven single-pivot and a true single pivot is that the linkage-driven single-pivot includes a linkage to drive the rear shock. This linkage helps frame designers to make frames more progressive, to help avoid the suspension blowing through the travel.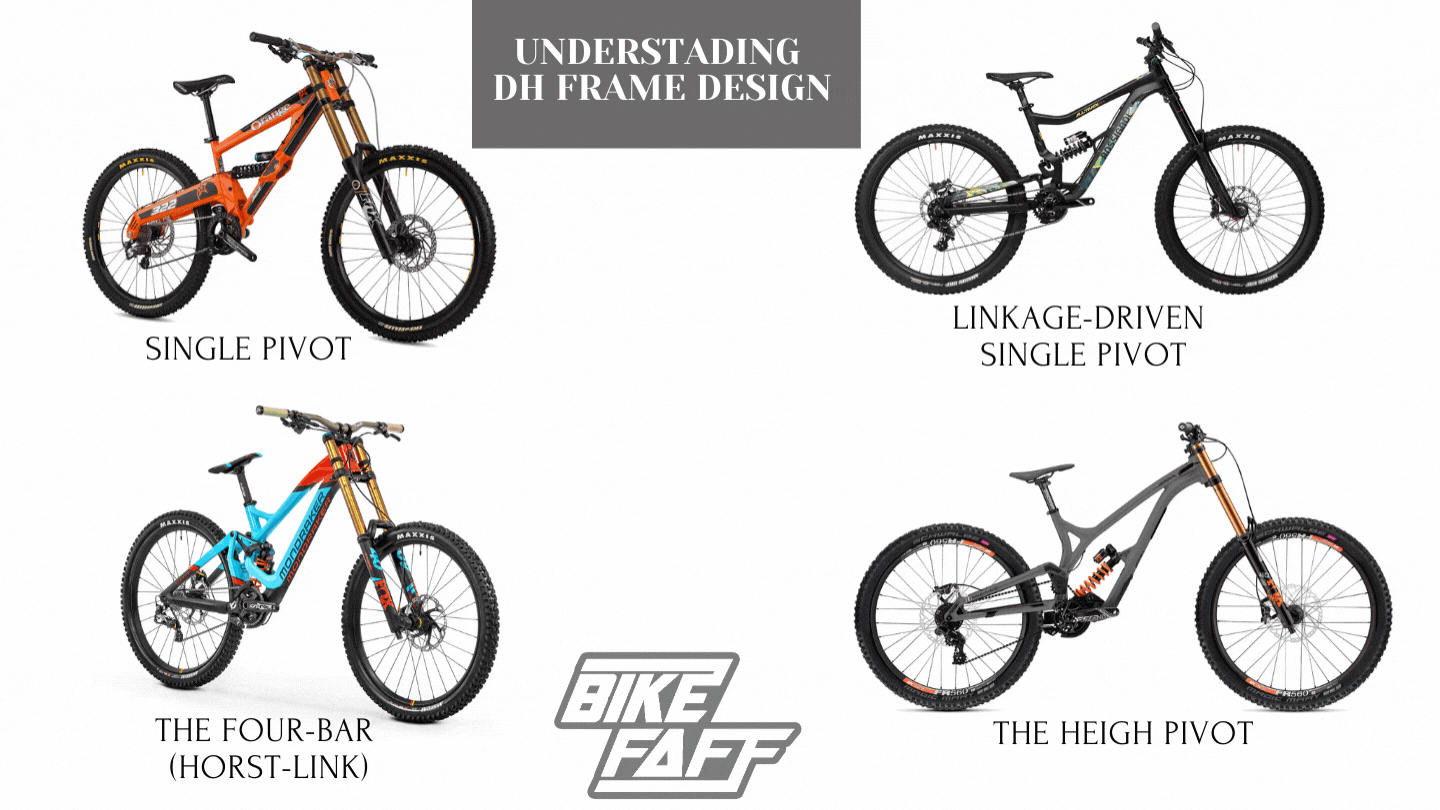 The four-bar (Horst-link). This commonly used 4 pivot linkage is not directly connected to the mainframe. This system often gives great sensitivity, and progression and suffers minimally from the force of breaking (anti-rise).
The high pivot. Many bike designers have realized the benefits of placing the pivot high above the bottom bracket and using an idler pulley around the pivot to avoid pedal kickback. The advantage of this design is a rearward axle path is perfect for handling square-edge hits, and when a high pivot is combined with an idler it provides almost no pedal kickback (chain growth) helping to make the suspension super sensitive. The disadvantages are some high pivot designs suffer from anti-rise meaning that braking can interfere with suspension performance, however, some brands have found solutions to overcome this. Another slight disadvantage is that the drivetrain can have significant amounts of drag and requires higher amounts of maintenance due to idler pully around the high pivot.
The Basics Of DH Bike Frame Geometry
Selecting a DH bike with the correct geometry is arguably the most important factor when choosing a new bike. If the geometry is not right no matter how many shiny components you fit the frame will fix the issue.
Over the years DH bike geometry has been slowly getting longer, lower, and slacker. This trend is perfect for riding as fast as possible down world cup downhill tracks, but not necessarily the best solution for beginners or intermediate riders. If you would like to get a good understanding of geometry and frame sizing check out our in-depth post on mountain bike geometry here.
Here are the average DH bike geometry numbers:
| | | | | |
| --- | --- | --- | --- | --- |
| | SMALL | MEDIUM | LARGE | EXTRA LARGE |
| AVERAGE DH BIKE REACH | 431 | 461 | 480 | 493 |
| AVERAGE DH BIKE BB HEIGH | 352 | 352 | 352 | 352 |
| AVERAGE DH BIKE BB DROP | 8 | 8 | 8 | 8 |
| AVERAGE DH BIKE WHEELBASE | 1250 | 1269 | 1292 | 1309 |
| AVERAGE DH BIKE SEAT TUBE ANGLE | 66 | 66 | 66 | 66 |
| AVERAGE DH BIKE CHAINSTAY LENGTH | 447 | 452 | 458 | 462 |
| AVERAGE DH BIKE STACK | 622 | 625 | 631 | 335 |
| AVERAGE DH BIKE HEAD ANGLE | 63 | 63 | 63 | 63 |
Average DH frame geometry numbers
Which DH Bike Suspension to Choose?
The rapid advancement of mountain bike suspension is truly astonishing! Gone are the days where your suspension blows up after a few runs! Modern suspension is reliable and adjustable to each individual rider's weight and ability.
All suspension is simply made up of two fundamental components: a spring and a damper. The spring controls how hard the suspension is, and the damper controls how fast the spring returns (rebound). Many modern mountain bikes are often air-sprung to help save weight and have added tunning benefits, however many downhill bikes still use coil springs as they tend to handle heat better on longer tracks.
Mountain Bike Suspension Brands
Front Forks
DH bikes normally use triple clamp forks with a through-axle to give extra stiffness and strength. unlike the rear shock, most top downhill forks use an air spring because the large volume of air is much less susceptible to heat issues (compared to air rear shocks), and has a number of tuning benefits.
Less commonly some brands use upsidedown forks like the Manitou Dorado. Upside-down forks have the benefit of super sensitive suspension due to reduced unsprung mass, however, it's an ongoing challenge for brands to design a fork that can balance minimal flex at an acceptable weight.
Rear shock
It's truly incredible how well modern DH bike rear shocks perform, and how much you can tune them. People use both coil and air springs on downhill bikes, however, people tend to favor coil because they don't suffer from the heat on longer descents. For tuning your rear shock, it's worth renting/borrowing something like a Shockwiz to so get real-life data to help get the perfect settings.
Understanding DH Bike Wheels And Wheel Size
Having. a good set of hoops on your DH bike is probably one of the most important components. DH wheels have to handle massive amounts of wear and tear, it's super important to know you have wheels you can trust. Although you don't want the heaviest and strongest wheels you can find, keeping wheels as light as possible is critical to a well-performing DH bike, lighter wheels can make the bike feel more agile, and help improve speed out of turns.
26-inch vs 27.5-inch vs 29-inch
So, are large or small wheels better? The boring answer is it depends on the rider. For taller riders and racers, you will probably prefer a 29er, for the shorter riders, or riders that want a more nimble bike you will probably feel more comfortable on a 27.5, or a mullet (29 front and 27.5 rear) and for beginners on a budget, there is absolutely nothing wrong with an older 26 inch wheeled DH bike (although. a few small upgrades like wider bars and a clutch mech will definitely help).
There is no magic bullet when it comes to selecting the right size wheel, it can be worth testing a couple of different wheels and frame size combinations.
Cabon vs Alloy DH Rims
Many professional DH riders use carbon DH rims, but does this mean carbon rims are better than aluminum rims? Carbon rims are often technically stronger and lighter than the same rim in an alloy. Plus carbon rims are nicer to ride giving the bike a quieter, more flowing ride. However, the only issue with carbon fiber is it does not deal well with certain types of impact, and it can be hard to see previous damage until the rim catastrophically fails. This is why many EWS riders have chosen to opt for alloy rims on the rear of their bikes. When choosing rims it is worth getting advice from someone you know that has ridden the rims long term. If you are unsure ask in a mountain bike social media group if anyone has tried the rim you are interested in.
Are Noisy DH Mountain Bike Hubs Better?
Whether you love or hate the sound of a bag of bees flying past, there actually is a reason some hubs have that buzzing sound. It's all to do with how many points of engagement the freehub has. Generally the more engagement points, the more of a buzzing sound. The popular sound of a Chris King hub is created by the 72 engagement points. A hub with a high number of engagement points gives the bike a quicker and more responsive feel, perfect for fast acceleration, and quick pedal strokes in between technical sections of the trail. The downside to hubs with a high number of contact points is they can interfere with the rear suspension.
Understanding DH Tyres
Choosing the right DH tyres can help you build confidence, allowing you to push your riding. Finding the right tyres is a balancing act between; turning grip, braking performance, rolling resistance, and puncture resistance. For downhill it's almost certainly worth having duel ply sidewalls to help prevent punctures, and generally worth having a soft compound tyre up front.
Common Brands Of DH Trye
DH Tyre Compounds
A simple explanation of how tyre compounds work:
Soft compounds = more grip, but faster wearing
Hard compounds = long-lasting, but less grip
Mixed compounds = often have soft side knobs for the turning grip, and firm centre knobs for braking grip
Many riders opt for a soft front tire and a firmer rear tire to handle the braking of the back wheel
What Width DH Tyre Do I Need?
DH tyre width ranges from 2.3″ to 2.8″. Most commonly people tend to run around 2.4″ to 2,5″. The compromise is wider tyres give better grip, but have slower rolling and give less frame clearance for muddy conditions.
Do I Need DH Tyre Inserts
So what do MTB tire inserts actually do? They are something you put inside your tyre to protect your rim from damage and help prevent punctures. These inserts are often made from foam or a pocket of air. With carbon rims becoming more common on DH bikes, tyre inserts are becoming more and more necessary to help protect people's expensive rims. Do you need a tyre insert? This depends on the type of riding you are doing – if you ride lots of harsh rocks, and want to avoid getting a flat while protecting your rim then it could be a worthwhile thing to get. However, if you ride nice smooth trails, and you run alloy rims then you might not want to add the extra rotational mass to your wheels.
What Tyre Pressure For DH?
Tyre pressure depends on many factors including your weight, the weather, riding style, etc. We have made a tyre pressure calculator to help you find a good starting point: Mountain Bike Tyre Pressure Calculator
Understanding DH Brakes
There is nothing scarier than going flat out down a steep trail and feeling your brakes start to fade, you pull even harder on the brake's levers but you're still accelerating, forcing you to drag limbs in the dirt hoping you might eventually slow you down. That said, modern mountain bike DH brakes are relatively reliable and super powerful if they're maintained correctly. Most riders will agree you need a set of powerful brakes for downhill, which will help reduce arm pump and allow later braking into turns.
What Are The Best Brake For Downhill?
The best brake for downhill will depend on your preference, some riders prefer brakes that have lots of modulation, while others prefer brakes with a pure on/off power feel. The most popular brakes for downhill are:
What Are The Most Powerful Mountain Bike Brakes?
We found the Magura MT7 was the most powerful with an Average Breaking Torque of 99.3 Nm, with an average stopping time of 5.2 seconds from 45km to 0. In Second place was the Magura MT trail sport with a stopping time of 7.6 seconds.
What Disk Rotor Size Should I Use On A Downhill Bike?
Mountain bike rotors vary in size from 140 to 220mm. The bigger the rotor the more power you will gain. Even just going from a 180mm rotor to a 200mm rotor you will gain an average of an 18% decrease in deceleration time. So unless you are desperately trying to save a small amount of weight it's worth having a minimum of a 200mm disk rotor on a DH bike. These days most people are running 220mm rotors.
Do Brake Pads Make a Difference To Braking Performance?
At the end of the day, it does not matter how good the brake caliper pistons or brake levers are if you have poor brake pads. This is because all braking forces are made between the brake pads and the disk.
Organic pads (perfect if you are looking for pure power/bit, but don't last too long)
Sintered pads (great for long steep runs, as can handle heat better, and last longer than organic)
Also consider aftermarket brake pads like the Trickstuff Power+ brake pads, as these pads have been shown to reduce brake deceleration by 18%.
How Often Should I Bleed My Brakes?
You should bleed your brakes every 250 hours of riding. You will need to do this more frequently if you ride a lot of steep terrains and you cook your brakes often, or if you notice any issues with your brakes.
Choosing DH Handlebars And Grips
Selecting the right handlebars for you is important because they are one of the two contact points you have with the bike. Handlebars come in different materials, shapes, and sizes. There's no perfect handlebar for everybody as all riders are built slightly differently, and many have riders have different preferences depending on their riding style. Finding the right handlebar is often a matter of trial and error, but once you find the right bar it will make a big difference.
Alloy Or Carbon Bars For DH?
The advantage of carbon handlebars is that theoretically, you can engineer a more precise flex pattern into a carbon bar compared to an alloy bar, and it's also possible to make them lighter. However, many carbon bars are often overbuilt, which reduces flex causing a harsh ride, also carbon is also more susceptible to damage from scrapes and nicks than carbon. So If you are on a budget, and want a robust handlebar then an alloy bar is probably your best bet. If you are looking for a lightweight, pure performance bar then a carbon handlebar is most likely your best option if your budget will stretch.
What Rise And Sweep Handlebar Do I Need?
First, let's talk about vertical handlebar rise. Vertical rise is measured from the center of the bar to the bar end.
High-rise handlebar (20-40mm plus rise). Higher-rise bars help push you weight back which helps when riding steeper terrain.
Low-rise handlebar (0-20mm rise). Lower-rise bars help you put your weight forward to gain more grip over the front wheel, and can help on XC bikes for climbing.
Handlebar Sweep is divided into 'up sweep' and 'back sweep'. Up Sweep is from a hypothetical parallel line under the handlebar clamping area to a vertical line following the rise up to the handlebar, the average upsweep is 5°. Back sweep is how much the bar goes back measured from the clamping surface to the end of the bar, the average back sweep is 8° (ranging from 7°-10°.
Just remember there is no right or wrong bar just what feels comfortable to you. Test other people's bikes and see what bars you get on with.
What Are The Best Grips For DH?
The best grips for downhill are the grips that suit your hand size and riding style. Grips often come in thick and thin, and hard and soft. If you have small hands then the small grips will suit you better and if you have larger hands then the thick grips will suit you better. Soft grips are great for people that have a loose grip on the handlebars, whereas firm grips are better for people with a tighter bar grip.
What Width Handlebars Do I Need For DH?
Most handle DH bars come new at around 800mm + wide, but this does not mean you should run them this wide. Handlebars are designed to be cut down! We have done a full post on handlebar width and made a handlebar width calculator here.
Which DH Cranks To Choose?
Downhill bike crank length and materials are often overlooked when considering the spec for your new downhill bike. The challenge is to find a set of cranks that are as light and as strong as possible while still giving you the best pedalling efficiency at a reasonable price. Let's face it if you have ever ridden a DH bike with a set of super heavy cranks it can make the whole bike feel sluggish.
Crank Length
Downhill and freeride bikes should not have cranks larger than 165mm due to needing better ground clearance when pedaling, which will avoid pedal strikes on trail features. A number of studies have recently suggested that long cranks do not dramatically improve pedaling efficiency contrary to popular belief- meaning that there is little need to run long cranks . Check out our crank length size calculator here.
Carbon vs Alloy Cranks
To keep it simple if you are on a budget, and you are not fussed about saving weight then an alloy crank be perfectly fine, and will also be slightly more robust against impacts than carbon. However, if you are trying to save weight and your budget will stretch, carbon cranks then that's most likely the best option. The other possible benefit to carbon cranks is they give a slightly damped feel when riding.
How Long Do Downhill Bikes Last?
If a DH bike is well-maintained, and not damaged it can last over 20 years. Also, carbon fiber bikes can outlast metal bikes if the carbon bike is well maintained, and not damaged. If you are new to DH and are on a limited budget a second-hand can be a good option. Check out our guide on buying a second-hand bike mountain bike, or How Do I Sell My Mountain Bike? 7 Important Steps (Complete Guide)
Where To Buy A Dh Bike?
If you are buying a new bike it's always good to support your local bike shop, plus it's great to have them help you build and set up the bike. Furthermore, it's always recommended to swing your leg over a bike to get an idea of sizing and feel before you buy.
However, many popular bike brands sell directly online, just remember it's always recommended to have a skilled bike mechanic check over the bike before you ride it. Many bike brands forget to Loctite pivot bolts etc, which can be hard to replace if they snap. Lastly, remember to always order a spare derailleur hanger for your new bike – as some hangers can be hard to come by. How to Buy a Used Mountain Bike | Buyers Guide