Average Cost of a Bike Tune-Up or Service (What's Included?)
Keeping your bike well maintained is an important part of owning a bike and will likely prevent issues and save you money in the long run. All bikes need to be maintained, no matter if it's a mountain bike, road bike, e-bike, or BMX. Before heading to your local bike shop you might be wondering what's the average cost for a bike tune-up? and what's included?
What's the Average Cost of A Bike Tune-Up?
The average cost of a bike tune-up will cost between $50 and $110 (£35-£70) depending on where you live. Most bike shops usually offer 2 or 3 tune-up types depending on your needs. Bronze (1-3 months), Silver (3-6 months), and Gold (9-12 months). The basic Bronze tune-up will normally cost around $40 (£35), Silver is around $70 (£60), and Gold is around $120 (£100).
What Is Included in A Bike Tune-Up?
Here are the different bike tune-up packages and what they normally include:
Plan Type
Tune-Up Interval
Price
What's Often Included:
Bronze
1-3 months
$40 (£35)
– Check tyre pressure
– Check frame and forks are correctly aligned
– Check and adjust gears and brakes (doesn't include cables or brake bleeding)
– Chain lubricated and checked.
– Safety Check
Silver
3-6 months
$70 (£60)
– Spokes tensioning and basic wheel truing (straightening) if required
– Check headset and bottom bracket for movement (tighten if required)
– Full bolt check
– Clean drivetrain ( clean & degrease chain, cassette, chainset/chainring)
– Inspect hubs for movement/
– Includes everything from Bronze
Gold
9-12 months
$120 (£100)
– Full strip down to frame and forks,
– Frame cleaned and an alignment check.
– Derailleur hanger alignment (if required)
– Hubs disassembled, cleaned, regrease and tighten
– Headset removed, cleaned re-greased
– Bottom bracket cleaned, re-greased
– Everything from both bronze and silver
Is A Bike Tune-Up Necessary? (Worth it?)
Yes, a bike tune-up or service is necessary to ensure your bike is safe and reliable. Like anything mechanical, bikes wear out and get damaged. Keeping your bike well maintained is a key part of bike ownership, and will help prolong the life of your bike. Plus, it will help you avoid the situation when you are stranded in the middle of nowhere with a broken bike.
How Often Should You Get a Bike Tuned-Up or Serviced?
The frequency you have a tune-up or service depends on how often you ride. At a minimum, you should have your bike tuned up or serviced once per year. However, if you ride your bikes a lot you should get your bike tune-up/served every 25 hours or every couple of months.
Where Should You Get Your Bike tuned-Up?
Where to get your bike tuned up or serviced depends on what type of bike you have. If it's a relatively low-end bike ($200-500), then it won't matter too much where you get your bike serviced. However, if you have a higher bike then it's definitely worth taking it to a bike shop that's experienced in high-end bikes. Also, remember some shops/mechanics specialize in different types of bikes, for example, some will only deal with road bikes or mountain bikes. Taking your bike to the right mechanic will ensure they have the experience and knowledge to give your bike the service it requires.
How Long Does a Bike Tune-Up Take?
You might be wondering how long you should wait when getting your bike tuned up. This will largely depend on how busy the shop is and where you are in the queue. If you book your bike in, then it should take no more than 1-3 hours depending on the tune-up type and what needs doing.
Can I Tune-Up My Own Bike?
Yes, but it depends on how much time you are willing to put into learning the necessary skills and you will need to obtain the appropriate tools. A professional bike mechanic will have all the tools and know-how to give your bike the treatment it deserves. That said, every bike owner should own a set of Allen keys for a bolt check after every ride, a pump to ensure correct pressure, and some chain lube.
If you're a serious bike rider, it can be worth purchasing the tools as and when you need them, while following online service guides to learn the process. Although, for the average rider it's much simpler to get the local bike shop to maintain their bike.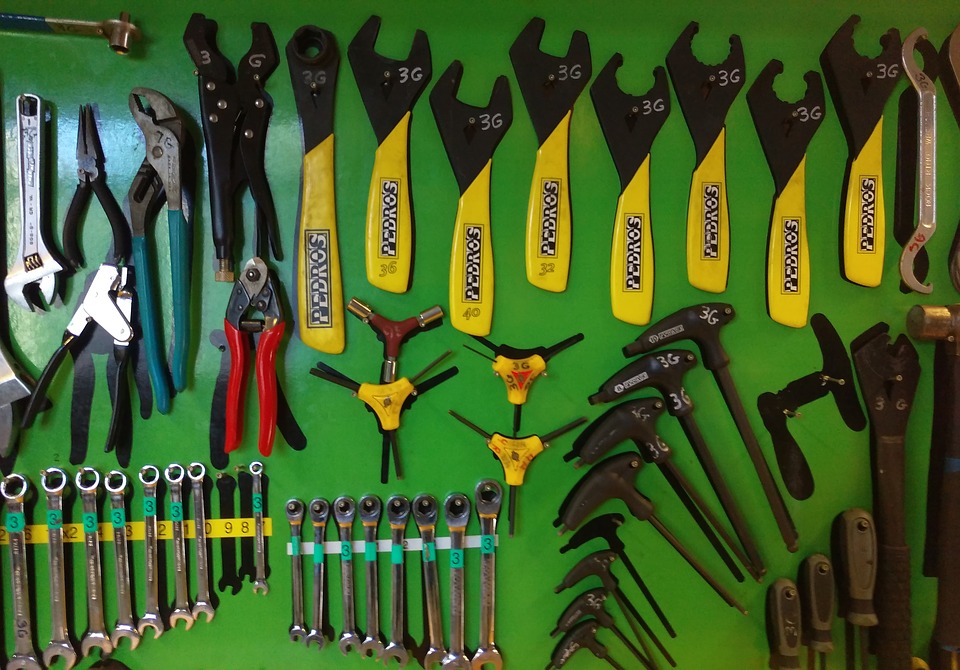 What Is the Average Cost for Mountain Bike Suspension Servicing?
Front suspension forks – Costs from $60 (£50) for a basic lower leg oil change, and grease, or from $100 (£85) to replace the dust wiper seals (with an oil change).
Rear suspension – Costs from $40 for a basic clean, and oil change, or from $90(£85) to replace all the seals + oil. Also, normally extra $20(£15) if you require a nitrogen charge.
How Long Do Bike Components Last Before They Need to Be Replaced?
The frequency you need to replace bike components depends on the frequency you ride, the conditions you ride in, and the type of riding you do. For example, if you are a mountain bike that riders in muddy conditions, then you will likely need to replace parts more frequently than a fair-weather road cyclist. Here is a rough idea of replacement intervals:
Chain – 2,000–3,000 miles
Chainrings – 6,000- 7,000 miles (often more if you replace chain and cassette frequently)
Cassette – 5,000- 6,000 miles (depending on riding conditions, and frequency of chain replacement)
Tyres – 1,000 – 5000 miles (depending on the type of riding, and conditions)
There is a good in-depth article here on component replacement intervals
When Should I Tune-up My New Bike?
Most bike shops offer a free 20-30 hour tune-up if you bought the bike from them. If not, it's recommended to have your first tuned-up/inspection after the first 25 hours of riding (or the first 250 miles). Normally, new bikes require gears adjusting, bolts tightening, wheels truing, and brakes adjusting – this first tune-up is probably one of the most important ones, as it could save you many issues in the long run.
What to Do After You Have Bought a New Bike?
Basic check – Even if the bike shop has been inspected and tuned up by a bike shop, it's always worth giving a new bike a bolt check, you'd be surprised how many bolts can get missed.
Warranty – many bike manufacturers require you to fill out an online form with the details of your new bike to make the bike's warranty valid. Often you have a limited time to do this, so it's a good idea to do it straight away.
Accessories – when you get a new bike it's often nice to add your own touch. Some people prefer a specific type of grips, pedals, or handlebars. For mountain bikers, a simple mudguard can make a big difference when riding in wet conditions.
You might also find useful:
Final Thoughts
The cost of a bike tune-up will vary depending on the type of bike, and where you choose to take it. Just remember if you have a high-end bike it's worth taking your bike to a specialist shop- which has the knowledge and correct tools.