What Is A Good Trail Bike For Beginners?
There's a huge variety in bike design out there and it can be bewildering for people who are new to the sport. As with anything in life, it's important to have the right tool for the job and there are a number of things to consider when picking out your first trail bike to ensure that you have one that suits your needs the best.
What is Trail Biking?
Trail biking is generally considered to be the "all-rounder" of mountain biking, including climbs as well as descents. It's an increasingly popular discipline for riders wishing to travel long distances but also enjoy a few bits of downhill along the way.
Trail riding slightly leans more towards the downhill side of the sport and less towards the cross countryside. Riders should consider what kind of riding they want to do when picking their bike so that they get the most suitable bike for them. Riders who are looking more at the cross country aspect of the sport should consider lighter bikes with less travel while those looking for more descents should look at bikes that are more suited to riding downhill, eg a downhill bike or an enduro bike.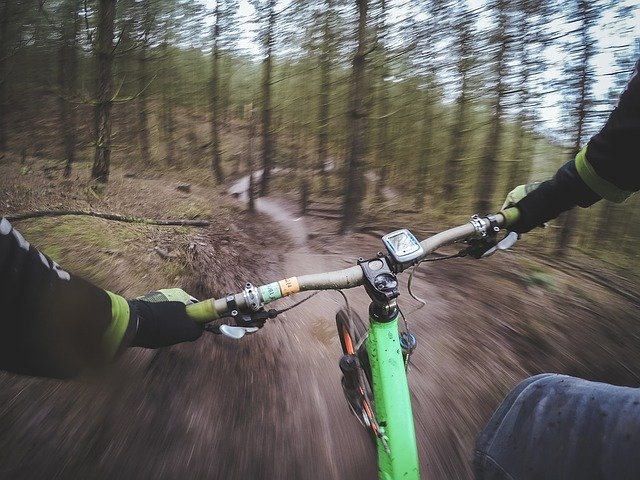 What Should I Look For In A Trail Bike?
It's important to know exactly what you are looking for in your first bike, and choosing the right trail bike will make the experience much more enjoyable.

BIKE FAFF
What Is A Good Trail Bike For Beginners?
The best trail bike for beginners in short is a bike that has a frame that fits correctly, with the correct wheel size, the right amount of suspension travel and that has the best quality components your budget can afford. In this article, we have attempted to tell you everything thing you should need to know when looking for a trail bike.
What Are The Best Trail Bike brands?
When choosing a trail mountain bike it's important to select a brand of bike that is known for producing quality bikes that are reliable, and which have a good warranty policy should you have any issues. Here is a brief list of some of the best-known and trusted trail mountain bike brands.
Santa Cruz
Trek
Specialized
Yeti
Giant
Ibis
Norco
Marin
What Trail Bike Frame Size Do I Need?
Trail bike frame sizing can be tricky to work out as there is no such thing as standardized frame sizing across the different frame brands. Also, the riders come in many different shapes and sizes, so it's near impossible to make a one-size-fits-all frame. The standard frame sizes are "small, medium, and large" there are usually lots of different sizes within those three categories depending on the brand. Most brands have a sizing chart that can give you a good idea of what size bike you will need.
The simplest, and best way to find a trail bike that fits is to go to your local bike shop or find a bike test day, so you can have a quick pedal on the bike before you make your purchase. Try to find a frame size where you're not feeling too stretched out or feeling too cramped for space. Remember if you're going for a 2-3 hour ride your need to be comfortable.
There are other frame size factors to consider if you want to get a little more technical. These include the distance from the center of the cranks to the middle of the head tube, and also the reach (the distance from the saddle to the handlebars).
Here is our frame size calculator if you are unsure about the size.
What trail bike wheel size should I get?
The next thing to consider is which wheel size you want to go for. Over the past few years, the industry has largely settled on 27.5 inch and 29-inch wheels as standard. The general consensus is that the smaller wheel size is better for more aggressive riding and steeper trails, while the larger wheels are better for riding long distances. However, the biggest factor is rider height, if you're a shorter rider under 1m 80cm (5ft 11) then you will probably feel more comfortable on 27.5, and if you're above this height then you're likely to feel more comfortable on larger 29inch wheels.
How Much Suspension Travel Should a Trail Bike Have?
Trail bikes usually have front and rear suspension that ranges from 120mm to 160mm of travel. However, there are also a number of hardtail options out there to take into consideration, (It's always better to get a high-end hardtail than a cheap full suspension bike – it will last you much longer!). Try to think about what kind of trails you want to ride, are you wanting to ride fast, steep technical trails, or more chilled flowy trails? For chilled/novice riders 120-140mm of travel should be adequate, and if you're a more aggressive rider, then 140-170mm travel would be better suited.
If you do go for full suspension, which is generally the more popular option, then make sure that you choose the right amount of suspension for your intended use. There's no point in going for a bike with more travel if you simply won't have any need for it (the bike will be heavier, and harder to pedal up hills). Bear in mind it's better to purchase best the best quality suspension you can afford, it will make the bike more comfortable/enjoyable to ride, plus it will last much longer.
Also see: What Is A Hardtail Mountain Bike? (Why You Should Ride One)
What Are The Best Suspension Brands For Trail Bikes?
The top trail bike suspension brands are:
Fox
RockShox
Marzocchi
Cane Creek
DVO
Formula
If you are purchasing a full bike, and you have the budget try to ensure the bike has one of these brands of suspension fitted. Other cheaper, less known brands will often not function well, and will likely cause you problems.
What Trail Bike Frame Geometry Do I need?
Trail bike frame geometry can be a very in-depth topic, so we have given you the 3 most important factors to consider.
Head Angle – The head angle is of the headtube in relation to the ground. Trail bikes usually have a slacker head angle (62-65 degrees) than the average xc mountain bike (which is often 68+). This is true for both the full suspension and hardtail options. This allows them to handle descents better, making them more stable. However, slacker geometry makes the steering feel sluggish on slower trails.
Seat Angle – The seat angle is the angle of the seat tube relative to the ground. Modern trail bike seat angles are getting steeper and steeper. This makes peddling uphill way more comfortable and efficient. The average trail bike has a seat tube angle of 76 degrees and above.
Bottom Bracket Height – This is measured from the middle of the bottom bracket to the ground. A low bottom bracket makes the bike more stable and feels better in turns. However, if the bottom bracket is too low then you will hit your bottom bracket or chainring on things. Full suspension bikes usually have a higher bottom bracket because the bottom bracket lowers as the suspension compresses. The average trail bike bottom bracket height is 340mm.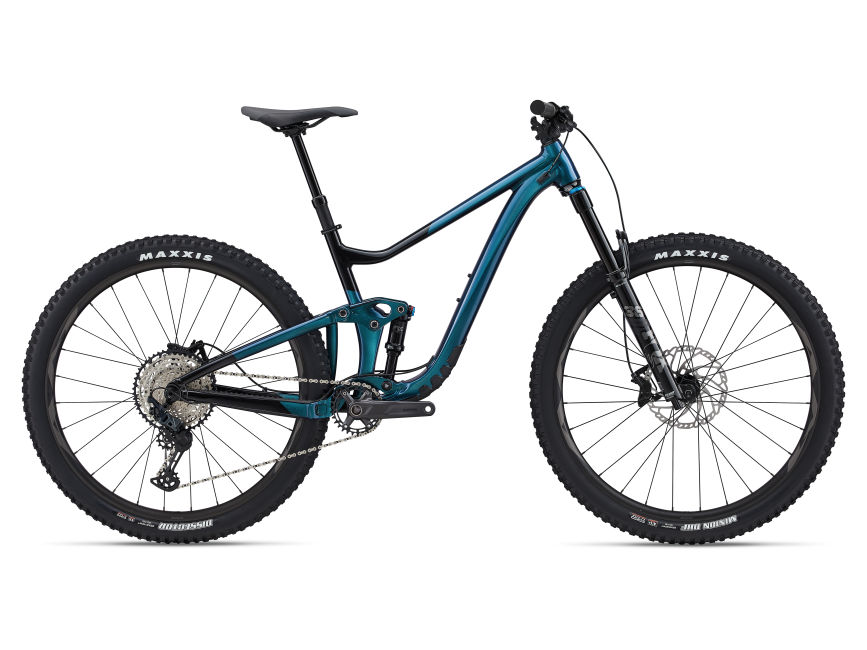 What Is The Price Range Of Trail Bikes?
This is a question that can largely be answered with how much you can actually afford – there's no point looking at top-end carbon bikes if you simply don't have the budget.
Low-end budget bikes ($0-$500) – Budget options that can be found at local stores should only be approached with caution. Whilst the low price can be an attractive proposition, a few rides on the local trails will quickly show that they are not suitable for handling anything in the least bit demanding. They are usually made with cheap, poorly made components and it's a false economy to buy them as they usually won't last long!
Hardtails ($500-$1000)– hardtail bikes with only front suspension can usually be found relatively cheaply. For those who are just trying out the sport and are unsure how much time – and money – they will be willing to devote to it this can be the best possible option. These bikes won't usually be well suited for more technical terrain, however, so are only really a good option for beginners or hardcore enthusiasts. There are full suspension options in this price range but they will generally be built with cheaper, heavier parts. Lesser-known brands can offer better value for money but tread with caution.
Low-mid range ($1000-$2000) Now there is an even greater variety to choose from. There are higher quality hardtails as well as a better range of full suspension bikes. The bikes will be more capable on rough terrain, although even at the higher end of the price range they won't have the best quality suspension.
Mid range ($2000-$4000) Going into the price range of two to four thousand dollars brings better and better features and components. More and more full suspension options are available and as the price increases further carbon bikes become more common. Now you start to see well-known bike brands with reliable and much lighter components fitted.
High end ($4000-$10,000+) By the time the price gets above $4000 these really are getting towards the top end. These bikes often come with reliable, lightweight frames, high-end buttery smooth suspension, and stunning, lightweight components. They are probably not suitable for beginners who will not feel the benefit of the top-end parts and build quality. Although saying this, if someone has $10,000 just burning a hole in their pocket then they will certainly be able to get something pretty special for their first bike!
Should I Get A Second Hand Trail Bike?
If you're on a budget buying a second-hand trail bike can be a good option. It will allow you to afford a higher-speed trail bike for the same price as a low-end bike. However, buying second-hand bikes can be a bit of a minefield if you won't know what to check. If you are not careful it can end up costing you more in the long run. When buying a second-hand trail bike the basic things to check are:
Inspect frame for dents, bends, or cracks
inspect forks and rear shock for damage
Check the brake's gears function as they should
Check wheels are straight and check spoke tension
inspect all components for excessive wear
If you notice any major damage don't hesitate to walk away. Minor damage could be an opportunity to renegotiate the price.
See our post on buying second-hand mountain bikes
What Is The Difference Between a Trail Bike And a Mountain Bike?
Apart from trail bikes, mountain biking can be split into two main categories – cross-country bikes and downhill bikes.
Cross country bikes have less suspension than trail bikes as they are not designed for descents. Less suspension allows them to climb better but means that anything bumpy or technical is considerably harder for them. They are designed for pedaling and covering long distances rather than going downhill.
This specific purpose also means that they usually have lighter parts and thinner tires to help with pedaling.
Cross country bikes also have steeper head angles and shorter top tubes to allow for sharper handling.
Downhill bikes have slacker geometry and weigh more than cross country bikes due to the fact that they need to be stronger than their cross country bikes to handle the terrain that is thrown at them.
Trail bikes, with their mix of riding styles that sits somewhere in between the two other disciplines, must be able to handle a greater variety of terrain – a downhill bike doesn't have to be able to climb, but a trail bike does. Likewise, a cross-country bike doesn't have to be able to handle steep, technical descents, but most trail bikes will.
Therefore trail bikes really do need to sit somewhere in the middle of both different styles of bikes, balancing the best attributes of each without compromising on the things that it needs to be able to do. A trail bike needs to be the best of both worlds, not a bike that is simply average at both. This is the real challenge in trail bike design.
Taking all of these aspects of the sport into account then it should be possible to pick the bike that is best suited to your needs. Rather than being daunted by the huge range on offer, taking into account exactly the type of riding that you want to do as well as your budget should ensure that you can find the perfect bike for your needs and get out on the trails to have some fun!
Some of the most popular trail bikes are:
You may also be interested in: