Shimano Vs SRAM Brakes | Which Is Better?
Shimano and SRAM are two of the powerhouses of bike brake manufacturers. Their brakes are among the most popular, well known and well regarded in the world. So in this article, we put Shimano Vs SRAM Brakes head to head to see which is better for your needs and budget.
Both companies have their supporters and detractors. People tend to have very strong views, and the differences between the brakes mean that those who like one tend to not like the other. Over time, however, the differences have become somewhat less noticeable.
Which one of them is best? And, more importantly, which one of them is best for you?
Are Shimano Or SRAM Brakes Better?
Both companies have honed the quality of their products over the years so that they are both at the top of their game. Both companies have been manufacturing bike components for many years and have excellent reputations for both high-end components and good value entry-level components.
With this in mind, the "best" brake largely comes down to your own personal preferences. They both make excellent brakes.
Your skill – or your local mechanic's skill – in setting up the brakes also plays a large part in what you might prefer. Both of them feel different if they are set up correctly. People can get the wrong idea about how good a brake actually is if it is not set up correctly.
Which Brakes Have Better Modulation?
SRAM brakes usually have more "modulation". That is, it is easier to adjust how much pressure you are applying on the brakes. In the past, this often came at the expense of a sense of "sharpness" in braking, but the company has worked hard over the past few years to ensure that this is no longer the case.
Newer SRAM brakes have a much sharper feel than older models, and those who are only used to the older brakes might be surprised by just how sharp the newer brakes feel, as well as how powerful they are now. It is always worth looking at the latest models.
Shimano, on the other hand, uses a system known as ServoWave. This means that at the start of the pull, the brakes feel slightly harder before getting easier, which provides a snappy pull.
This means that the brakes feel powerful right from the start of the pull. One drawback to this in the past has been that it has meant that the power of the brakes has been harder to modulate. Power is all well and good, but maybe the rider doesn't want to apply the brakes quite that powerfully. However, in recent years, Shimano has worked to tone down the ServoWave and increase the modulation of the brakes.
This means that, while both brands have a reputation for one thing – modulation for SRAM and power for Shimano – they have now worked to improve on the thing that the other company is good at, bringing them closer together.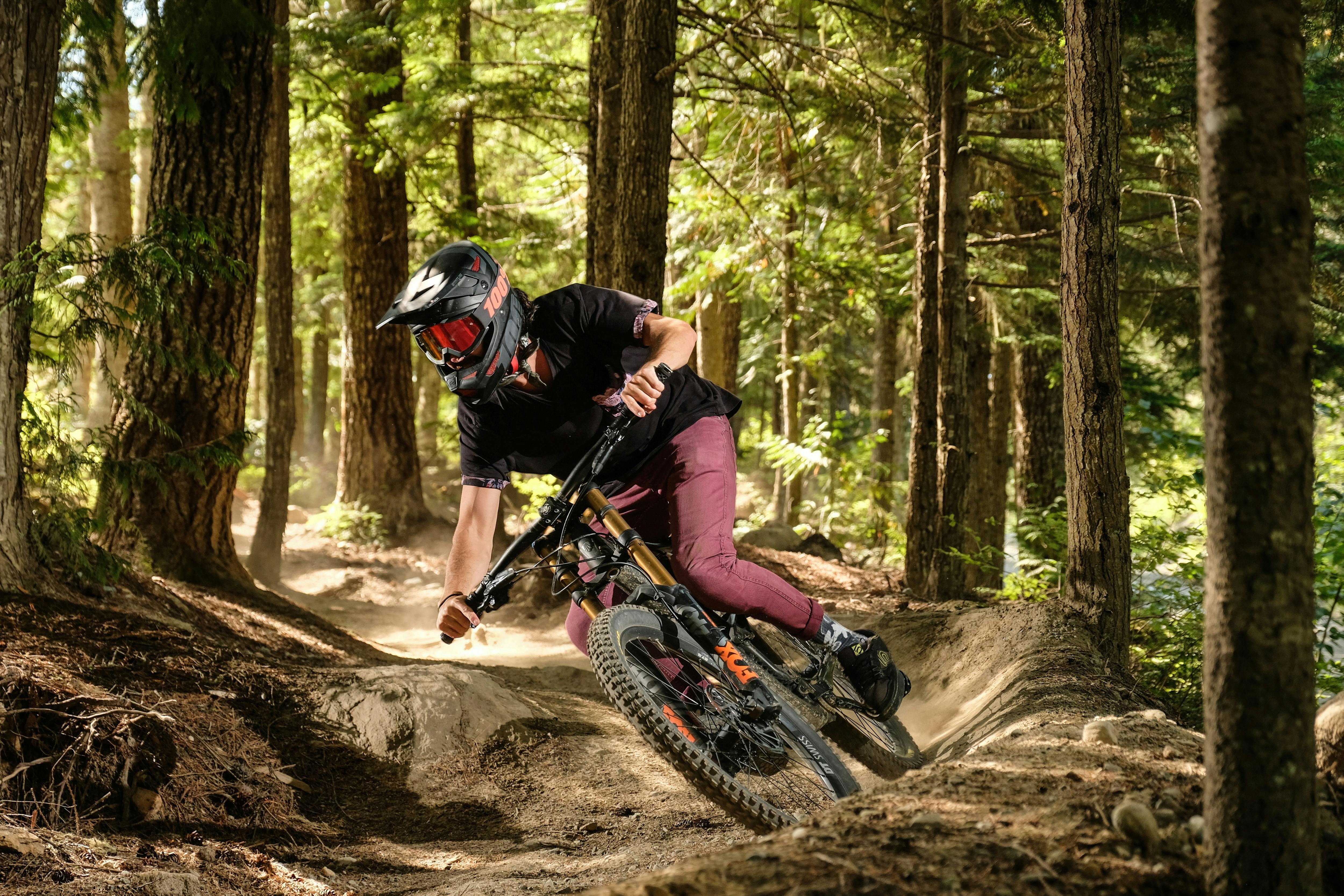 Which Brakes Are Easier to Bleed? (Sram Or Shimano)
Some say that SRAM brakes are harder to bleed, but Shimano brakes need to be bled more often. Many people like Shimano Brakes because they use mineral oil instead of dot fluid which is corrosive, and can cause damage to the paint of your bike and components.
How to replace a Shimano brake lever
Which Brakes Are Lighter?
As you can see in the table below, Sram brakes are often fractionally lighter than the Shimano counterpart
| | |
| --- | --- |
| Model of Brake | Weight |
| | |
| Shimano Deore | 548 g |
| Shimano Saint | 594 g |
| Shimano XT | 528 g |
| Shimano Zee | 576 g |
| | |
| SRAM Code R | 514 g |
| SRAM Code RSC | 566 g |
| SRAM Guide T | 546 g |
| SRAM Guide Ultimate | 446 g |
| SRAM Level Ultimate | 352 g |
How Do They Compare in Price
You can see in the table below that Shimano brakes are slightly cheaper than Sram for a comparable brake.
| | |
| --- | --- |
| Model of Brake | Price |
| | |
| Shimano Deore | €73 |
| Shimano Saint | €237 |
| Shimano XT | €146 |
| Shimano Zee | €157 |
| | |
| SRAM Code R | €170 |
| SRAM Code RSC | €270 |
| SRAM Guide T | €117 |
| SRAM Guide Ultimate | €301 |
| SRAM Level Ultimate | €310 |
Which has better Breaking Torque and Stopping Times?
As you can see on average from the table below, Shimano brakes have a higher braking torque, which resulted in an improved stopping time compared to a comparable SRAM brake.
| | | | |
| --- | --- | --- | --- |
| Model of Brake | Average braking torque | Stopping time (30-15 km/h) | Stopping time (45-0 km/h) |
| | | | |
| Shimano Deore | 69.7 Nm | 3.0 s | 9.6 s |
| Shimano Saint | 83.1 Nm | 1.4 s | 8.8 s |
| Shimano XT | 78.3 Nm | 3.4 s | 9.3 s |
| Shimano Zee | 75.4 Nm | 1.7 s | 12.0 s |
| | | | |
| SRAM Code R | 69.4 Nm | 3.1 s | 11.9 s |
| SRAM Code RSC | 70.5 Nm | 2.4 s | 8.5 |
| SRAM Guide T | 55.4 Nm | 3.4 s | 10.2 s |
| SRAM Guide Ultimate | 71.6 Nm | 3.1 s | 12.2 s |
| SRAM Level Ultimate | 62.2 Nm | 2.8 s | 9.7 s |
What Is The SRAM Equivalent Of The XT Brake?
The Shimano XT groupset is one of the most popular brake systems in the world, seen on bikes across the globe.
It is not the most expensive, but for many buyers, it offers the perfect mixture of affordability and performance.
It is also versatile enough that it is used by riders for different disciplines – trail riders, enduro riders, and cross country riders.
The SRAM equivalent of the XT groupset is the GX Eagle groupset. Just like the XT groupset, it is lightweight, reliable, and versatile enough to be suitable for many different kinds of trails and many different styles of riding.
The GX Eagle offers high-performance on a budget. The SRAM option is slightly cheaper than the Shimano offering and has a slightly better range of gears. As far as looks go, however, if that is important to you then the Shimano groupset is generally considered to be the better-looking option, although that is obviously down to personal preference as well.
Are SRAM And Shimano Brake Pads The Same?
No, the two companies make brake pads that are specific to their brake systems. They are different sizes and are not universal. They are not compatible with each other, so make sure that you buy the correct pads for your bike otherwise they will not work.
– Here is a good Shimano Brake pad finder on their website.
– Here is a good Sram brake pad finder on their website.
Are SRAM And Shimano Brakes Compatible?
Some parts of the different brake systems are compatible, but most of them are not compatible. The rotors are usually compatible between the two different systems, as long as they are the same size and the brake track matches up to the pads. Different-sized rotors might require an adapter.
However, that is where the compatibility ends. The other parts will not fit together and, what's more, the two companies even use different brake fluids – Shimano uses mineral oil while SRAM uses dot fluid. This means that the seals from each different manufacturer will not work well with the different brake systems. Also, Shimano and Sram levers and callipers are NOT compatible/interchangeable, this is because they have different pull ratios and use different fluids as mentioned before.
Final Thoughts (Shimano Vs SRAM Brakes Which Is Better?)
It really is worth trying out both brakes if you have the chance. They both have a huge range of products for every kind of riding and every budget.
Whichever brand of brakes you go for in the end, both SRAM and Shimano are at the top of their game, and you can be sure that you are buying an excellent product that will last well and perform brilliantly.
The two factors that have defined their brakes in the past – that SRAM had more modulation but less power, and that Shimano had more power and less modulation – are not as true now as they were in the past. Both companies have worked on the areas where they were seen as being deficient and they have now become much closer in this regard.
Both brands of brakes have their own positives and negatives when it comes to maintenance as well.
Therefore, it ultimately comes down to personal preference. Some riders swear by one brand, while other riders swear by the other. You will not go wrong with whichever one you choose in the end.
You might also be interested in: