Are Pinarello Bikes Good? (Helpful Tips)
Pinarello might not be the largest bike company in the world, but they have a reputation that far exceeds the size of the company. Having sponsored the Sky/Ineos bike team since 2010, the company can boast multiple Grand Tour victories.
But how good are Pinarello bikes for the average rider?
Here's How Good Pinarello Bikes Are:
Pinarello bikes' reputation is well deserved. A boutique brand that focuses on making some of the finest road bikes in the world, bikes from Pinarello are not the cheapest by a long way but are some of the most sought-after bikes in the world.
A Brief History Of Pinarello
Giovanni Pinarello was born in Catena di Villorba, on the outskirts of Treviso, Italy, in 1922.
This period has often been hailed as the golden era of Italian cycling. Pinarello enjoyed a successful amateur career as a racer before turning professional in 1947. Pinarello won the Maglia Nera at the Giro d'Italia, but it was not on the track where his true fame lay.
While racing as an amateur, he also worked at the Paglianti bicycle factory, and it was to this industry that he returned when his racing days were over.
In 1951 Giovanni's contract ended early and his team awarded him a severance of 100,000 lire, which was a great deal of money back then.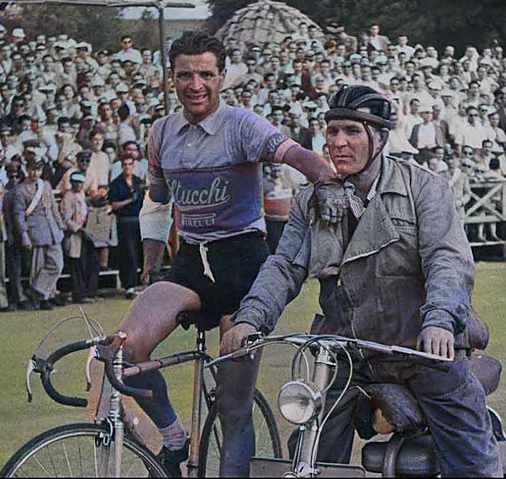 Pinarello invested the money into opening a bike shop back in his hometown of Treviso, where he turned his dream of building bicycle frames into a reality. In the early 1960s, the shop began sponsoring local riders. The Reynolds bike team at the time was looking for a manufacturer for their team bikes. The Reynolds team at the time included a future legend, Miguel Indurain.
PINARELLO'S FIRST EVERY VICTORY
Pinarello's first-ever major victory was achieved by Guido De Rosso at the Tour Of Avenir in 1961, where we won 2 stages, as well as the overall, which was an impressive feat for a 21-year-old.
Pinarello began manufacturing bikes for the team and enjoyed some success in the 1980s, winning two Giro d'Italia titles and one Tour De France, as well as a gold at the 1984 Olympics.
The 1990s brought further success for Pinarello bikes, with five Tour wins, two Giro wins, Olympic gold in Atlanta, a TT world record, and breaking the hour record. The Pinarello name was well and truly established as one of the all-time greats.
How Reliable Are Pinarello Bikes?
Pinarello bikes are designed and built to take on the most demanding road courses in the world. They are ridden by some of the top riders with good reason. They boast excellent reliability.
What Types Of Bikes Does Pinarello Make?
Pinarello is one of the most famous road bike manufacturers in the world. As such, they have made their name manufacturing some of the finest road bikes available. The name is associated with high-end road racing bikes built for the hardest climbs and fastest descents.
However, they also make several other bikes. The company makes gravel bikes, for riders looking to get away from the smooth tarmac, e-bikes, and urban bikes for riding around the city.
You can see the full range of Pinarello bikes here on their websites.
How Expensive Are Pinarello Bikes?
Generally speaking, Pinarello bikes are expensive. Due to the quality of the brand and the exceptional quality, the price is high, but for people who are serious about road cycling, the price is worth it.
The Paris, Route Gan Dura, and Prince bikes, for example, cost between £4,000 and £5,000. The Dogma costs around £6,000. The Super Record EPS and Dogma F DIsc are both at the higher-end and cost about £15,000.
Their gravel bikes are slightly cheaper but are generally sold for similar prices.
How Durable Are Pinarello Bikes?
Pinarello bikes are very durable. The aluminum frames are very strong and the carbon frames are designed to be stiff and as strong as possible. The bottom brackets are designed to be thicker as they need to be able to withstand more of a beating.
Carbon road bikes generally can't take huge impacts, as shown when Michal Kwiatkowski was involved in a multi-bike pile-up at the Tour de France three years ago and snapped his bike. But under normal conditions, they have good durability.
What About Older Pinarello Bikes?
Older Pinarello bikes are often recognized as classics and are still highly sought after, even if they aren't quite as light as the latest models.
Do They Still Make Parts For Older Models?
It is still easy enough to find parts for older Pinarello bikes, even if the manufacturer cannot supply them.
What Are Typical Problems With Pinarello Bikes?
Pinarello bikes do not have any major problems. If you are looking for a stiff, high-performance bike then they are one of the best brands on the market. However, due to their reputation and quality, the high price of their bikes can be daunting to some.
How Long Do Pinarello Bikes Last Compared To Similar Brands?
Barring any major crashes, a Pinarello bike will last for many, many years.
Do Pinarello Bikes Hold Their Value?
Not only do Pinarello bikes hold their value, but older ones are considered classics which people will still pay a premium for.
Are Pinarello Bikes Still Being Made?
Pinarello bikes are still being made to this day and are still as popular as ever.
Which Bike Brand Has Won the Most Tour De France Races?
Pinarello – 15 wins
Peugeot – 10 wins
L'Auto – 10 wins
Gitane – 9 wins
Alcyon – 7 wins
Merckx – 5 wins
Automoto – 4 wins
La Sportive – 3 wins
Bianchi – 3 wins
Trek – 2 wins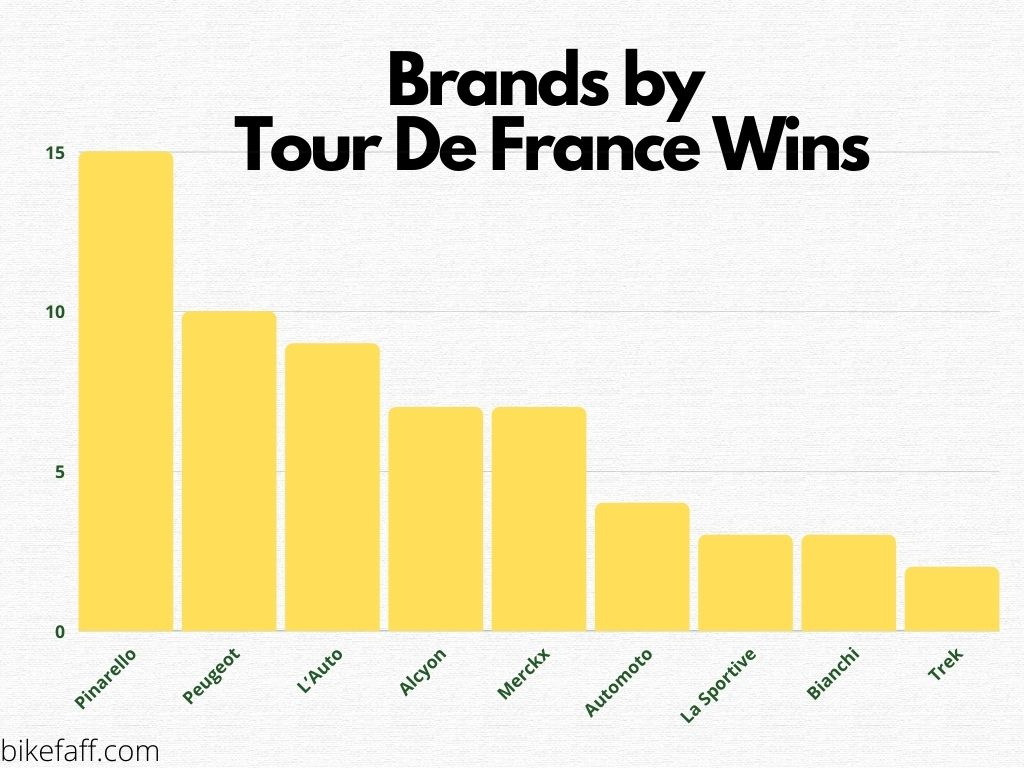 Final Thoughts (Are Pinarello Bikes Good?)
Pinarello is a high-end brand that is considered to make some of the best road bikes in the world. This boutique brand puts a lot of focus on quality and innovation which without doubt comes at a high price. Their bikes have the best race-proven record with 15 Tour De France wins. So if you are looking to ride one of the best bike brands available a Pinarello could be a great option if you have the budget.
Other brands you might be interested in: